Alumni Award Winner Daniel Uribe Launches Engineering Career Through Perseverance
Thank you so very much for this tremendous honor. I accept this award knowing that my life, at this point and time, could have been much, much different without the NAF academy I attended in high school, and without life-changing teachers like Tracy Gerardina and mentors like DeAira Handugan, who nominated me.
I graduated from Justin Ford Kimball High School two years ago with a diploma, a NAF internship, plans for college, and a baby.
Today, I work full-time at Asociar LLC, a wireless telecom firm. I'm a student at El Centro Community College, and I'm a husband and a father. To my wife, I want to say a special thank you — for all she is and all she does.
Sometimes I think our lives follow a path made familiar by family. I grew up with young parents whose lives have been defined by hard work, a focus on family, smart decisions, and an ability to venture into unknown territory when opportunity presents itself.
My mother was very young and pregnant with me when she kissed my Dad, said "hasta luego," and left their home in Mexico for Texas. Their plan was for Dad to stay and work in Durango until Mom and her sisters could make enough money to pay for Dad to join them. My parents were separated for several months, each working hard on either side of the border. But their plan worked and today we have an extended family in Dallas.
As a kid, I always understood that everyone in my family had a job and mine was school. Luckily, I had some teachers early on who encouraged my interest in math. James Gandy, my 6th-grade math teacher, had been in telecom before teaching. He talked to me about engineering and what I could do and be. My Uncle, a math whiz, often helped me with tough homework. But it was my Dad who gave me my first exposure to NAF's bedrock — applied learning.
He had only been able to finish middle school back in Mexico, but he learned on his own and started a construction business. When Dad took me to his job sites, I saw firsthand that math skills were critically important to his work, to his success, and ultimately, to his ability to provide for our family.
And then came NAF.
When I had to pick which NAF Academy career path I wanted to pursue in high school, I wasn't sure at first. But I knew I loved math and always enjoyed taking stuff apart as a kid like my mother's vacuum — which I couldn't put back together — and the big old 90's computer I owned in 2008— which went through many operations. So, I picked the academy of engineering.
I loved the classes, and I loved my peers. Through NAF, I participated in internships that pushed me to work with different kinds of people in areas that I knew nothing about like marketing and event planning.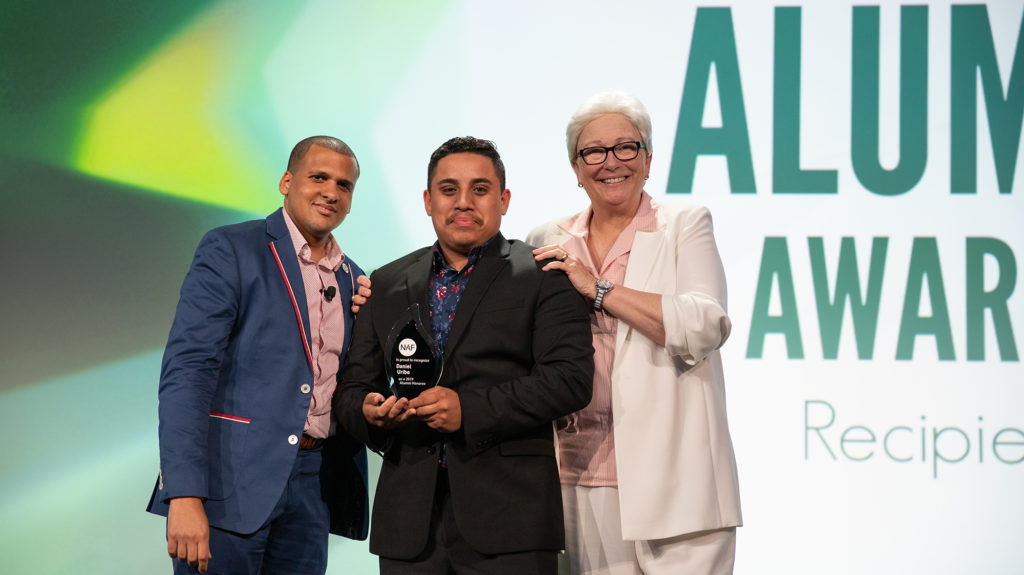 The internship at Capital One's Future Ready Lab not only taught me how to build out a major event for their tech week, it also reinforced something that I learned at home and school: It's really valuable to listen to others, especially people who are really different from you.
No one has all the answers. Complex problems and important issues are solved by teams made up of very different players.
In my NAF academy, I was part of a team of students coached by incredible teachers. And sometimes, the problems those teachers solved literally kept us in the game.
When I found out I was going to be a father in high school, the first person I told was my academy instructor, Tracy Giradina. She told me that I needed to focus even more in school because it wasn't just about me anymore. I needed to use my internships to get a job that would allow me to continue my education and support my family.
That was when I started to see the full potential of what NAF could be for me and my family. NAF became my launch pad. Today, I take three courses a semester at El Centro Community College and work full time as a Lead Field Tech.
The support I received from my academy instructors still has a marked influence on me. For all you teachers, I hope you never forget the difference you can make in a student's life.
At work, I am complimented on my work ethic and my maturity. People usually think I am older than I am. The motivation my little boy gives me, and the support NAF has given me has helped me become the man I strive to be.
After earning my Associates in Science, I plan to transfer to The University of Texas in Arlington for a civil engineering degree. It is work I feel I have been born into, thanks to my father. My dream is to build the next phase of the company he started and to one day be able to take care of him and my Mom. Their love, commitment to hard work, and willingness to try new things continues to inspire me. I want to continue the journey they began.
One day, I hope that little Daniel will follow in my footsteps and find a launch pad at NAF. I don't want life to always be easy for him, because it's problems and challenges that make us work harder to turn dreams into a life well-lived. And along the way, I hope he finds teachers like I did who see his worth and point him in a direction that he can follow for a lifetime.