Alumni Award Winner Raymundo Lopez On Exposing More Young People of Color to the Engineering Field
Hello, everyone. My name is Raymundo Lopez, but you can call me "Ray". It is an honor to be recognized as one of this year's NAF Next Alumni Award recipients.
I currently work as a Deep Water Rig Engineer for BP America, where my office is literally a giant ship in the Gulf of Mexico. I feel incredibly fortunate to have a career where I get to collaborate with professionals from all over the world to brainstorm, design, and implement solutions to intricate challenges.
My drive to persevere through complex issues has both shaped my career, and the person I am today.
My family and I moved from San Lorenzo — a small pueblo in Mexico — to Porterville, California when I was three years old. My parents made sacrifices and uprooted their lives so my four younger sisters and I could attain a better future than they had. My coveted American education came at their expense. They worked like most Hispanic immigrants from the area, regularly working 10-hour shifts in the blistering heat of the agriculture fields.
My parents' efforts taught me to value my academic journey. I would often hear my father say, "You can either pick oranges for the rest of your life, or you can solve problems to improve the world." My natural gravitation towards the latter pushed me to enroll in the Harmony Magnet Academy of Engineering.
Funny enough, I enrolled at the engineering school, but I had no idea what an engineer actually did. In the Fall of 2011, I walked through the doors of my first NAF class: Intro to Engineering Design. Our first assignment was to design a cup. Our instructor, Mr. Karjala, told us, "Engineers define problems, and now is your chance to refine a solution. There are no boundaries to your level of creativity." I designed a cup that channeled the heat from the liquid inside to generate electricity and power a phone charger. This was the first time I understood what an engineer did, and I don't just mean design cool coffee cups. They use math and science to solve everyday issues for the world's benefit.
Every NAF class I took gave me insight and experience into the many ways I could use engineering as a career to improve the world around me.
I valued the energy industry after experiencing the remote Mexican communities that lacked the reliable, efficient, and affordable energy that I had taken for granted in the U.S. Because they were without electricity, these communities were deprived of other necessities as well — healthcare, education, and viable working conditions. I wanted to do my part in empowering communities around the world.
Through NAF while still in high school, I interned with companies in the renewable energy sector like SunPower Corp. and Grid Alternatives. These internships and class experiences were where I further developed my skill sets before beginning college.
Not long after attending the University of Alaska Fairbanks, I became aware of another barrier: there were too few engineers of color. In my view, we needed to expose more young people of color to engineering, the same way I was through NAF.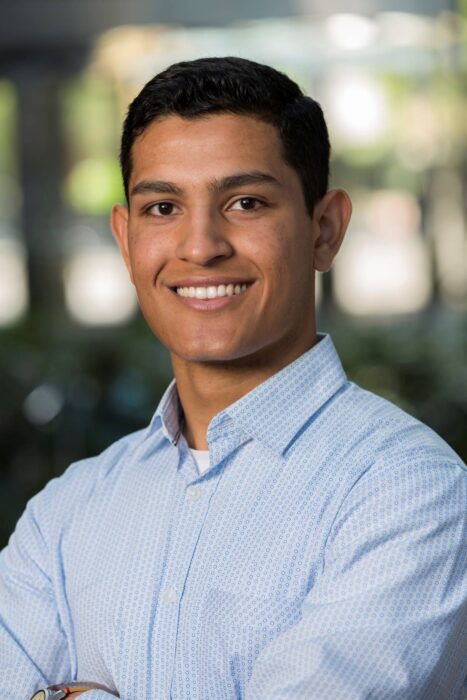 I organized other underrepresented engineering students at the university to pioneer the first Alaskan Society of Hispanic Professional Engineers and National Society of Black Engineers chapters. Through these organizations, we directly connected over a dozen students of color with internships or full-time jobs and exposed hundreds of young students in the community to the magic and opportunities within STEM.
As I continue in my career, I want all young Black and Brown children from disadvantaged communities like Porterville to know they have a seat at the table in any career they work toward. That starts with us professionals constantly surveying the table in our business meetings to identify the demographics that don't yet have a seat available. It ends with us ensuring every student recognizes that achieving their dreams is possible through higher education. As an engineer, THAT is the biggest problem I am working to solve.
I am proud of this award not because of my accomplishments, but because it reflects my parents' sacrifices. Mom and Dad, gracias por todo. Thank you to the incredible teachers and faculty who helped shape my journey through high school and college: Mr. Karjala, Horacio Toniolo, Jeromy Blackwell, and so many others. Principal Jeff Brown, thank you for recommending me for this award, and for the impact you've left. And to the Porterville Unified School District, and the organizers who had the vision to start the Harmony Magnet Academy of Engineering, and all other academies throughout the nation: know that your work is changing lives. It certainly changed mine.