Becoming College Ready: Celebrating #WhyApply Day 2021 with the American College Application Campaign (ACAC) and NAF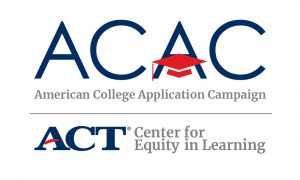 8am classes. Late nights at the campus library. Studying abroad and engaging civically. Graduating with lifelong friends. These are a few of the experiences from my undergraduate years spent at North Carolina State University. There are people like me who decided to take this brave step and now reflect on fond memories and cherished friendships, and it all started with applying to college.
Today, 35% of jobs may require a bachelor's degree and 30% of jobs require some college or an associate's degree. While these numbers may seem low, the fact remains that continuing education beyond high school is a direct passport into a future full of opportunities. The focus and drive to obtain a degree will also lead to financial stability over a lifetime. In short, college still matters.
NAF is proud to participate in #WhyApply Day on Friday, September 17, sponsored by the American College Application Campaign (ACAC), and kick off the college application season by sharing supportive and motivating messages on social media about the importance of applying to college. Whether applying to a certificate program, two-year college or four-year university, it's important to celebrate this critical and necessary step on the journey to postsecondary education.
As a student, the first thing to consider when exploring any post-secondary path is to reflect on what you are looking for – such as class size, type of major, location, etc. When creating a prospective college list, there are several tools and materials to support what will fit your needs and reaching out to a college advisor or school counselor will also help to guide this conversation and may even open a world of possibilities.
Also, remember to keep in mind college entrance exams and testing schedules throughout the academic year. Preparation through school-wide testing days will help increase scores. There may be free resources, including workbooks and websites available to high school students. If you meet the criteria, take advantage of testing fee waivers. High schools typically host college fairs, and your state may also participate in a "college application week/month" where many colleges/universities will accept applications with reduced and/or waived fees as well.
While this is not an easy process, taking time to plan, do the research, ask questions, and build your network of support can make all the difference. There are many factors that go into making this investment in your future — trust the experts that can help chart the path to success and frequently visit your college advisor or school counselor to work on these steps together. This partnership with you, your family, and support team, will help to make informed decisions, as it relates to planning.
As NAF students complete courses within a chosen pathway, they increase their awareness and feel prepared to embark upon the journey into the professional world.
Post-secondary education represents a chance to take on this academic challenge and find ways to create a greater sense of purpose, by using the acquired skills and knowledge in a productive way. With so many options and decisions as to how to continue learning, it is important to discover personal motivations and goals for the life imagined. It's also perfectly alright to change your mind.
As educators, we can help our students by sharing personal antidotes, both the good and the not so good. With the rise in tuition costs and the uncertainty that looms with making such a pivotal decision, choosing to apply to any post-secondary experience comes with great benefits and rewards. Many who look back on their college experiences realize the years spent alongside likeminded students, being mentored by professors, and exposed to a reality beyond their neighborhood are the very elements that helped to navigate a sustainable pathway. Essential skills needed – related to communication, problem-solving, professional development, etc. – regardless of industry, are refined during this time in life.
Ultimately, your #WhyApply story will be uniquely yours and we can't wait to hear it! Join ACAC and NAF on Friday, September 17, for #WhyApply Day by heading to social media and answering the question, "Why apply to college?"
Click here to access the social media toolkit for ideas, sample posts, and more. Make sure to tag @NAFCareerAcads and @American_CAC and use the hashtag #WhyApply. Follow NAF on social media for additional insights and reflections from my NAF colleagues on why they applied to college.