Building A Generation of Socially Conscious Entrepreneurs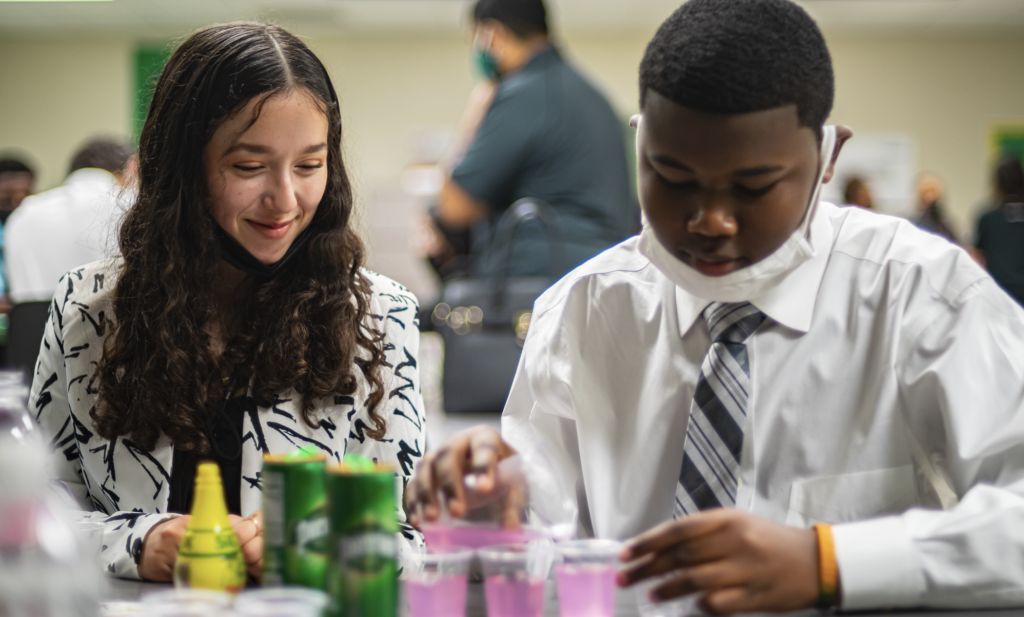 November is National Entrepreneurship Month! This special time celebrates our nation's entrepreneurs and offers a chance to learn from these pioneers and problem solvers who continue to chart their own paths and embrace risk-taking. More than ever before, there is a significant importance placed on being a socially conscious entrepreneur. Americans want to know that the businesses they are supporting are contributing to the greater good.
Entrepreneurship is a career pathway NAF fully supports. The classes NAF academies offer teach the steps involved in creating and running a business, while fostering creativity, initiative, and agency. Students also learn how to work collaboratively, think analytically, and prepare a business plan and pitch.
NAF students at Miami Jackson Senior High School, Academy of Finance, recently experienced what it takes to be a socially conscious entrepreneur when BevLaunch came to their school, as a result of NAF's partnership with Machu Picchu Energy, an energy drink for those who want to Feel Good and Do Good! Under their teacher, Ms. Washington's leadership, the students embarked on a fully immersive challenge starting their own beverage company and took a 10-lesson structured course on socially conscious entrepreneurship, marketing, building a brand, sales tactics, pitching their ideas, and more.
BevLaunch teaches students the basics of entrepreneurship and reinforces these teachings with tangible work-based learning activities.
Students first start with picking a mission and building a brand and drink around that mission. Student senior, Gabriella C.'s group, chose to focus on helping immigrant families assimilate to a new society in the United States. The drink they created was called 'Caribbean Blast' and was full of flavors inspired by the tropical islands.
Students create their own beverage, packaging, design, and brand logos, with all of this hard work culminating with the launch of their drink company on Pitch Day. In groups, the students have an opportunity to pitch local businesses and community leaders to invest in their company. NAF CEO, Lisa Dughi, was in attendance to help decide this year's winning team – Gem.
Gem was created to combat thirst by improving access to clean water. This group's target market was active females, to be sold directly in gyms as a pre-workout and energy drink. Senior, Kareem B., wanted to create a drink specifically designed for women, because he was raised by strong women. He made the most of this opportunity to develop new skills, such as communication, collaboration, and entrepreneurship, that led to an internship offer with Machu Picchu Energy!
"I really enjoyed this experience because it put my knowledge to the test. The hands-on learning experiences pushed me to apply what I just learned in a collaborative environment." – Kareem B.
Both Gabriella and Kareem left this experience with a better understanding of what it takes to run a socially conscious company. Feeling inspired, Gabriella has discovered a passion to start her own medical practice and provide free services for women in her community.
"NAF students were incredibly engaged in BevLaunch. They absolutely lit up when we started mixing around beverages to create their own product, and they worked well in our randomly assigned teams. They internalized the concepts and showed stunning creativity to develop exciting drink concepts. Following the simulator, we could see they were incredibly excited about not just entrepreneurship, but careers in general, and finding ones that would be fun and meaningful." – Daniel Scharff, CEO of Machu Picchu Energy.