Catching Up with the NAF Alumni Network in Dallas + What's Ahead
As a NAF alumna, Class of 2015, I have seen the way that the NAF Alumni Network is growing and changing now, more than it ever has before! The NAF Alumni Network provides all alumni with many benefits, one of which being the Alumni Mentorship Program, which partners new NAF alumni with alums currently working in their prospective career or field of study. This program was first piloted in early 2021 and continues to evolve, from the initial 17 NAF alumni to 42 alumni in 2022 who are mentoring each other and expanding their knowledge. Having been a part of the experience myself, I know how rewarding it is to give back and mentor the next generation, while also learning new things and gaining a broader perspective from one's mentee.
Recently, we hosted NAF Next 2022, our annual professional development conference, in Dallas, TX. NAF Next brings together education, business, and community leaders to address some of the biggest challenges facing education and the workforce, NAF alumni were at the center of it all! For the first time, NAF's Alumni Engagement department hosted an in-person networking event in Dallas, TX. It was held at El Bolero, a restaurant in the Design District, with over 30 local alumni, national alumni conference attendees, corporate and school district partners, and NAF staff in attendance.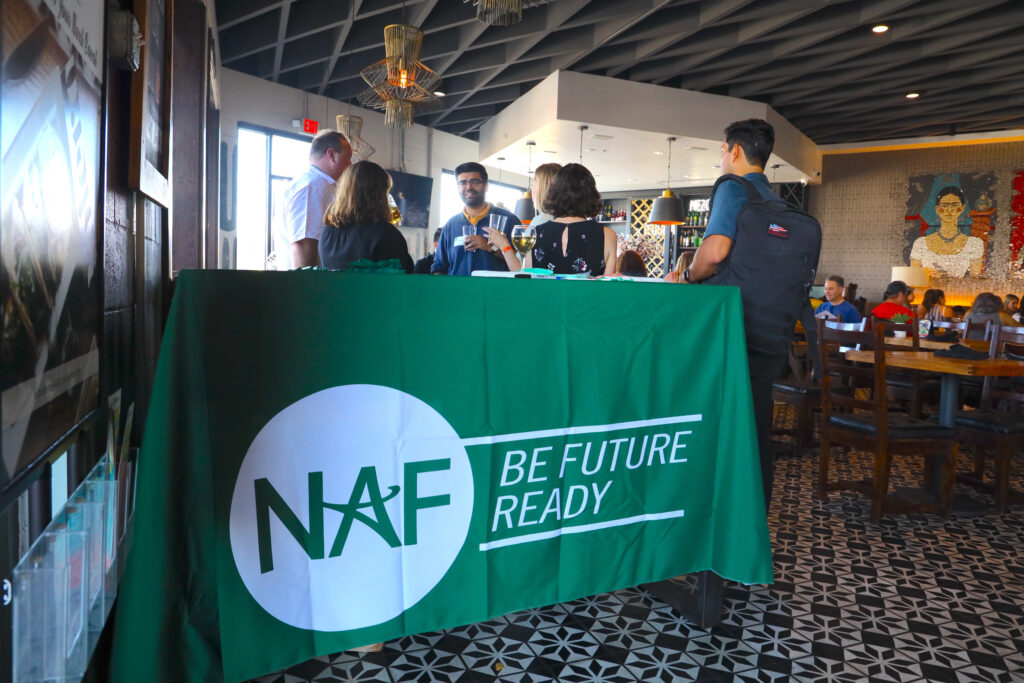 The event was a huge success as we joined together to enjoy tasty food and impactful conversations. It was inspiring to hear alumni share their NAF journeys and how, with the support of their academy and the many opportunities the NAF alumni network provides, they were able to name their futures.
"The NAF program is so large – it's a big network and so diverse. I was one of the seniors that won 'NAF Senior of the Year' and that has led to additional internship opportunities. It's so great that even after graduating, NAF continues opening doors.

Sofia Santillan, Woodrow Wilson High School, Academy of Finance, Class of 2020
Being an older NAF alumna, I have seen the countless ways that being a part of NAF has shaped my journey and helped me to #NameAFuture. It's with great pleasure that I add that NAF is embarking on a year-long movement, Name A Future, to ignite, evoke, and share the pride we all feel as members of the NAF network with each other to better connect network members with the NAF brand and all that it stands for. During our time in Dallas, we spotlighted the campaign on NAF Next's mainstage to stir up excitement. We look forward to having our alumni join in and add their voices to share who helped them to get to where they are today and to #NameAFuture!
At the NAF Alumni networking event, I met recent NAF alumni who astounded me with how the academies had grown and shaped high schoolers to #BeFutureReady in ways that I never could have imagined. I also had the privilege of interacting with two recent NAF alumni from North Carolina, who shared with me the opportunity that their NAF academy has granted them as high schoolers.
"In our school, we have a senior exit project, where with the support of funding, we are tasked with creating a product to solve a problem. In our case, we saw a significant issue on UNCC's campus, where it's difficult to have pedestrian roads and sidewalks deiced during winter weather, which causes a lot of injuries. So, we decided to create a deicing robot. Without the help from NAF, the mentorship from Colleen Del Terzo, Director of Instructional Services, our project would not be as successful as it is right now."

Nolan Witt & James Tirana, Charlotte Engineering Early College, Academy of Engineering, Class of 2022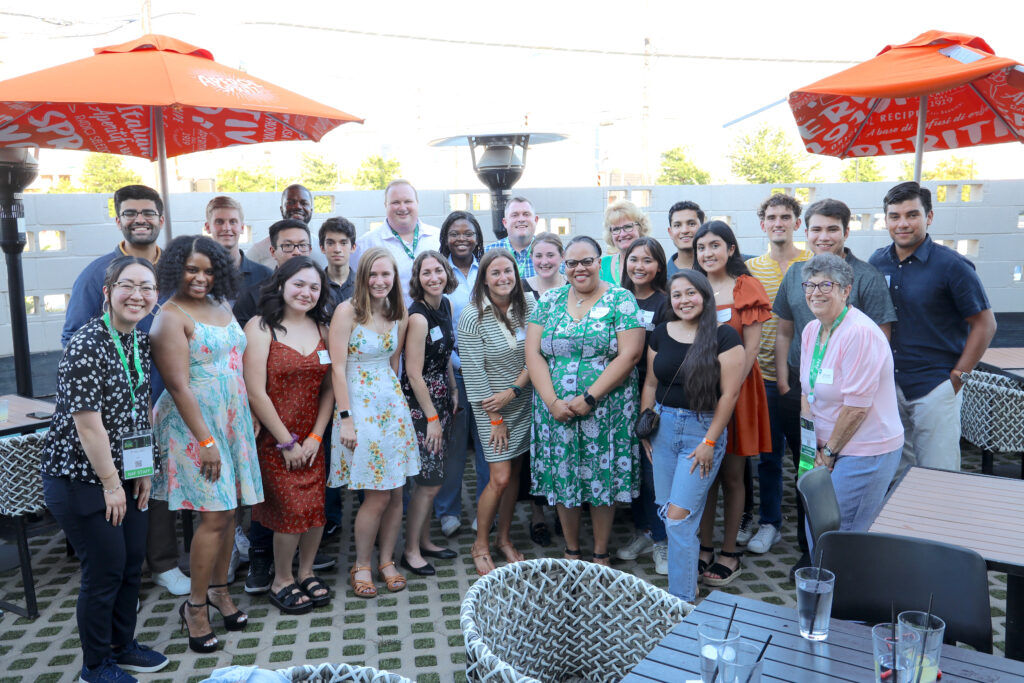 With NAF alumni like this graduating and becoming a part of our network, I can say that I too am proud of being a part of an organization as large and successful as NAF. So often I see academy students achieving things that those in the workforce say that they wished they could have done in high school. NAF's Alumni Network is bringing together these many talented individuals, with room to grow and innovate. At the networking event, we also heard from NAF's CEO, Lisa Dughi, about the bright future of the NAF Alumni Network:
"This is a very powerful network, and I often say that that is the most powerful part about NAF—the network, and you are all such an important part of it. Please continue to talk to each other. We want to just make sure we're continuing to support you and provide more opportunities for you."
As we look ahead to what's next, I'm excited to see what NAF's Alumni Network continues to achieve and create. In addition to this being the first official NAF Alumni Networking event in Dallas, NAF's Alumni team launched the Alumni Job Board, where you can see recent job postings from NAF's corporate partners at the touch of a button. These opportunities continue to build on the social capital that NAF academy experiences have already provided for alumni. If you have any questions, comments, or want to get involved, in any capacity, email Susan Climan at scliman@naf.org.
There's still more to come! Keep an eye out for the Alumni Survey coming in September, where for the first time we will be looking to track data on our NAF Alumni Network and where they are now. We additionally will be hosting an informative 3-part webinar series exclusively for alumni in September and will be hosting Alumni Month in November with special content and insightful resources to better grow you as alumni.
Also, don't forget to get involved with our #NameAFuture campaign! Join in by getting runway ready with Name A Future merch at our newly revamped NAF store or by sharing your story by answering one of our questions below on social media, through video or post caption. Be sure to use the hashtag #NameAFuture and tag us @nafcareeracads!
What's your #NameAFuture story?
Who helped you #NameAFuture? Give them a shoutout!
How do you help NAF students #NameAFuture?