Spring 2022 DECA Spotlight
North Kingston NAF High School Students Demonstrated Future Ready Skills at DECA's International Career Development Conference in Atlanta, GA
Roughly 14,000 attendees gathered in Atlanta, Georgia this spring to compete in DECA's International Career Development Conference. Among the 14,000 were our very own Rhode Island NAF students! More than 10,000 DECA members demonstrated their college and career skills, by participating in DECA's Competitive Events Program.
What is DECA? It's a world-wide association of young business professionals and entrepreneurs and, like NAF, is backed by major corporations and colleges. DECA has a membership population of 20,000 high school and college members – with NAF students being active participants! At North Kingstown High School, they've identified ways in which DECA can complement the initiatives put forward by NAF, such as college and career readiness preparation, and satisfying NAFTrack certification requirements. For instance, DECA has become a key source for internships — considering members differentiate their DECA event projects via outside expert sponsorships.  In addition to internship hours, DECA offers student members work-based learning hours, as they prepare for their DECA pathway exams and present to judges on solutions in business case scenarios.  
We caught up with a few students who attended the conference and below is what they had to say about the overall experience:
"The ICDC conference was truly an amazing once-in-a-lifetime experience. Going into the competition, I did not really know what to expect. However, the conference far exceeded any expectations I had. From the opening ceremony at the Mercedes-Benz Arena, to the career exhibits at the Georgia World Congress Center, it was truly eye-opening. I was able to make so many connections and get exposure to career paths I may consider in the future." – Molly S.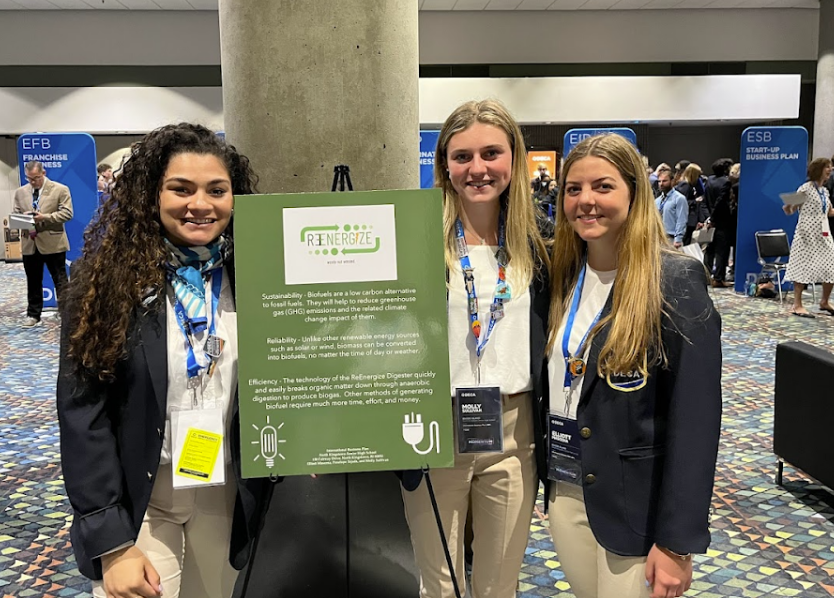 "The International Career Development Conference was a life-changing event. After landing in Atlanta, I knew the next five days would be some of the most memorable in my life. During our opening ceremony, we networked with students from all over & got to know them a little better, while trading our unique pins. Throughout this process, we also learned what events they were competing in & explored more about the different business sectors." – Penelope T.
Being in the Mercedes-Benz arena was an unforgettable experience; the positive energy in the arena was something I'll never forget. The guest speakers were all associated with DECA, and I soon realized the number of impactful organizations that DECA supports and how beneficial this experience is!" – Mackenzie N.
Mackenzie, like all the students at North Kingstown High School, are top notch. She worked hard to get to the ICDC conference and the results prove that, as she was named a finalist and winner of the J. Willard & Alice S. Marriott Foundation scholarship! She's popular amongst her peers for all the right reasons. In fact, by unanimous reference, Mackenzie is next year's chapter president for North Kingstown High School– known for her signature positive attitude that is infectious!
Here are some more student responses on the skills they've learned, thanks to NAF:
"The skills that I have gained from my NAF education will help to enhance my educational experiences in the future. I plan to utilize the skills that I have learned during my future endeavors in college. The courses taken through NAF have made an impact on my knowledge about business and finance will certainly help advance my financial education in the future." – Molly S.
"This program helped me to be future ready, by allowing me to network with people from all around the world with careers and jobs that are similar to what I want to be doing in the future. You can really understand the pros and cons of each career path you are considering and decide which best fits your needs." – Alyssa D.
DECA's International Career Development Conference was an amazing, once-in-a-lifetime experience for students in attendance. From the opening ceremony in the Mercedes-Benz arena, to competing in the Georgia World Congress Center, being present in the environment every day was thrilling! Our future-ready high schoolers also enjoyed the perks of being able to interact with other students from across the globe and gain inspiration from one another.