Don't Underestimate Your Impact
Greg Hutton is one of the many professionals that mentor NAF students. Greg is a Corporate Technology leader at Verizon responsible for Virtualization Planning, Design & Architecture, based in Dallas, TX. In this role, he delivers Global IP network design, architecture and new technology introduction while leading core transformation initiatives for Verizon's Private Cloud Platform (VCP). Greg is well-known and respected within Verizon and the industry at-large for his unwavering passion and energy for collaboration, mentoring and service to others. We spoke to Greg about his work with NAF students and the importance of mentoring.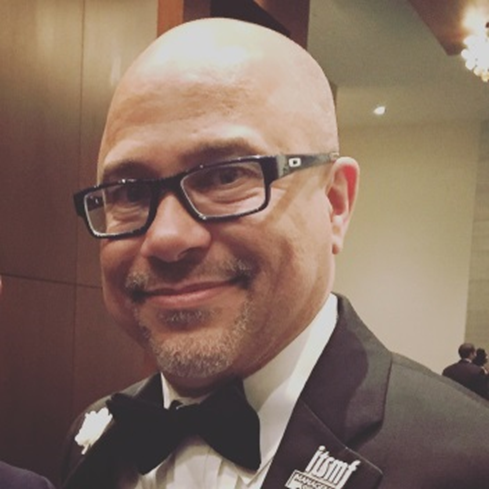 Greg: One of the key items that I find rewarding, but also challenging at the same time, is helping students understand what kind of technology we focus on at Verizon. Sometimes, students get enamored with the cell phone and there's a lot of things that are associated with that. It gives me an opportunity to talk more about the wireless network, the RAN — as we call it the radio access network, but also the wireline network infrastructure. I educate them about software, software development, computer engineering. That's a natural progression to majors for students. A lot of the students have a high-level idea about what they may want to do, but sometimes they're not sure what the day in the life of a network engineer is like. I think it's important for those students like we have with NAF to be able to have worksite tour opportunities where they get a chance to shadow people on a day to day basis. The idea of a computer engineering, software engineering or electrical engineering degree and career starts to become more real for them. So, I would say that it's really the hands-on, work-based learning opportunity that becomes an important part of their development and not just for a day. It's an ongoing thing.
Have you had the opportunity to work with a student one on one and give them career advice?
Greg: Absolutely. I am connected with a lot of students I work with on LinkedIn. It gives them an opportunity to stay connected around the clock. I do a lot of direct messaging with students to help them coordinate site visits for colleges and universities. Or, we just have an ongoing dialogue with regards to certain majors and linking things that they like or things that they're strong in, to actually STEM-based opportunities.
Who typically takes the lead on connecting?
Greg: I would say it's generally a mix. Typically, students are concerned that they're bugging you or they don't want to take the initiative. They're not used to those types of meetings, but when you get the ball rolling it tends to balance out a little bit more. Once they learn that you are really interested and authentic in terms of your interest in assisting and guiding them, they can open up more. We also host conference calls where we get faculty, and even parents, that can participate periodically. Students receive more of a group discussion. But, the one on one is a lot better. It is more exclusive and you're able to really make more of an impact with that individual.
You said that you've been doing this for a couple years now. Is there one student that you think has benefited the most from your mentoring, as they progressed through their career journey?
Greg: Yes. His name is Brandon Q. and he's my favorite. I try to get him to as many events as I can, but he's got a busy schedule. He went to Hillcrest High School Academy of Engineering. His dad has an engineering background, so he's unique because he's got some of the additional support at home, from a technology standpoint. A lot of the other students that I work with that don't have that.
Brandon was a Verizon intern that wasn't on my staff, but he was reporting to a peer of mine. I got to impact him, and he impacted me and we forged a really good relationship. The thing that I think really helped was I would bump into him at other locations outside of the Verizon site, and it took him by surprise to see a business professional he knew at the mall. Eventually, he met members of my family and I think that galvanized things. He could see that I'm not just a guy who shows up every once in a while; I'm a real person. I have a family. So just seeing some of the other human aspects helped us build a strong mentor relationship.
What advice would you give other professionals about mentoring high school students?
Greg: Don't be bashful about engaging. Sometimes people are hesitant about what they can pass on. So, the biggest message for me to pass on to other professionals is: don't underestimate the impact that you can have in a young student's career development. The messages that you're able to share could be small. It doesn't necessarily always have to be something novel or something that's well prepared, rehearsed, and polished. Just being able to share your story sometimes has such an impactful significant impact on a student.
Get involved with NAF students at naf.org/get-involved.