NAF Alumna, Ely Hernandez Explores New Frontiers With NASA Internship
Ely Hernandez grew up watching rockets launch into space from her home in Orlando, Florida. She never expected she would one day play a part in getting one of those rockets—and the first woman—to the Moon, but that's exactly where the proud daughter of Puerto Rican immigrants and Academy of Finance alumna landed.
Ely's journey to becoming an intern at NASA started long before she accepted the coveted role. As an Academy of Finance student at Boone High School, Ely was able to learn the crucial skills and the confidence she would need to shoot for the Moon.
"For me it's natural," she said. "Having gone through NAF in high school, I learned the importance of being prepared for the future."
So, when she started freshman year at the University of Central Florida to study Finance and International Business, Ely was excited to put her skills to work. She joined clubs and associations on campus to make connections and practice those networking skills she learned at her academy. "I wanted to continue this tradition that I have of wanting to go all in to everything I do," she said.
One of these groups, ALPFA, the Association of Latino Professionals For America, helped Ely find community. Ely, whose parents immigrated from the small town of Corozal, Puerto Rico to the United States to pursue an education and seek a better future, worried she might not fit in at college because of her background. ALPFA gave Ely a professional network she could rely on and a community she felt a part of.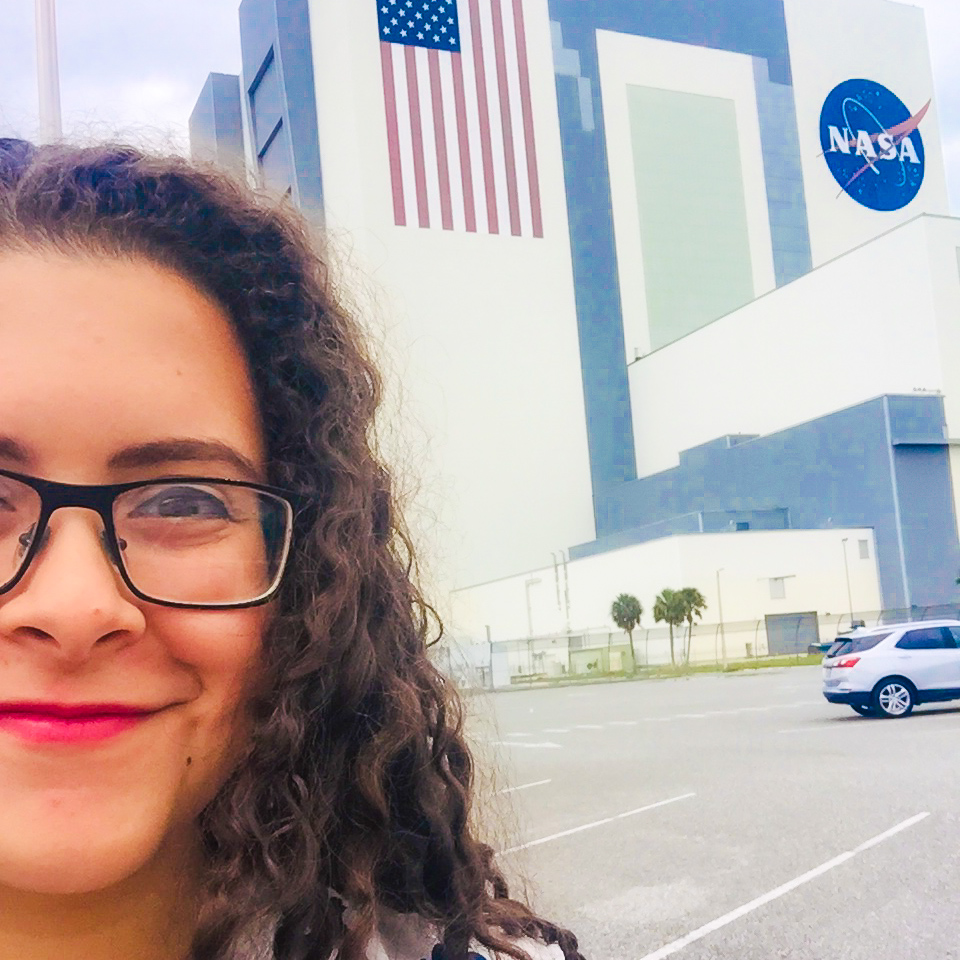 Ely's commitment to building her community and network paid off when one of her new connections reached out about an internship at NASA. The internship was in Configuration Management—not the usual business environment Ely was used to. As NASA's newest intern, Ely explored new frontiers of her own, learning to track changes in projects, streamlining new tools, and getting to work with the team who is currently engineering NASA's next lunar exploration program, Artemis.
The Artemis program will land astronauts on the Moon by 2024, including the first-ever woman.
For Ely, getting to be a part of history-in-the-making, has been her favorite part of the experience. "Being here is a great achievement. I'm sitting next to and talking to really influential people. Having the opportunity to network with them is my favorite part. It's amazing to be part of this group," she said.
Getting used to her new place in history took some getting used to, though. Ely recalls showing up on her first day at NASA to discover she was the only female intern.
"I remember the first day I had to get badged and set up," she said. "The minute I walked into the badging station I saw the circle of guys all talking to each other—at first I was absolutely intimidated."
This isn't a unique experience for women in tech, especially Hispanic women in tech. In 2018, women made up only 26% of the computing workforce and Hispanic women only 2%. While in today's growing industries, females and minorities remain underrepresented, many companies are working to create a diverse workforce.
Despite the gender disparity which Ely also sees in high school and college, she appreciated the diversity she encountered at NASA. "There were people of all different backgrounds," she said. "Every person I met had a different story of how they got there, and they all love their jobs."
As she goes back to UCF for Sophomore year, Ely plans on taking the skills she learned in Configuration Management and applying them to a career in global markets or foreign exchange. She's most excited about the growing importance of diversity and inclusion at more companies.
"It might seem scary now, going into the business world as a minority, but there has been a huge shift in diversity and inclusion programs," she said. "The more diverse a group is, the better ideas come from it."