NAF Alumna, Monica Suarez Uses Her Experience & Culture to Support NAF Students
NAF alumna and volunteer Monica Suarez believes students should be passionate about their heritage and culture. "I totally encourage the Hispanic/Latin culture in the students. It's okay to educate other people on what your story is because your story is not what my story might be." Being of Colombian and Puerto Rican descent herself, Monica knows that her heritage gave her a unique perspective on the world she grew up in.
If you ask Monica where she's from, she'll tell you that she's a "Queens girl." Growing up, Monica lived in Jamaica, NY with her mother and brother, who both emigrated from Colombia. "My mother came to this country in the early 80s with nothing—absolutely nothing and she had to pray her entire way into this country." Monica's mother struggled with the language barrier when they arrived in America, but she didn't let that minor hiccup deter her family's success. Monica graduated from Richmond Hill High School Academy of Hospitality & Tourism (AOHT), then John Jay College of Criminal Justice before earning her master's at New York University with the goal of becoming a social worker for teenagers.
It wasn't until grad school that Monica noticed her skin color and realized her language were different than that of her peers. From elementary school to college, Monica lived in a world where the minority was the majority. In Monica's community, almost everyone was different. She grew up with a lot of kids whose parents didn't speak English as their first language. Monica recalls everyone in her high school group being Hispanic or Indian. Today, Richmond Hills AOHT's largest populations are still students who identify as Hispanic/Latino (37%) and Asian (23%). John Jay College of Criminal Justice in New York also consists largely of Hispanic (46%) and first-generation students (47%). Attending NYU opened Monica's eyes to a larger reality.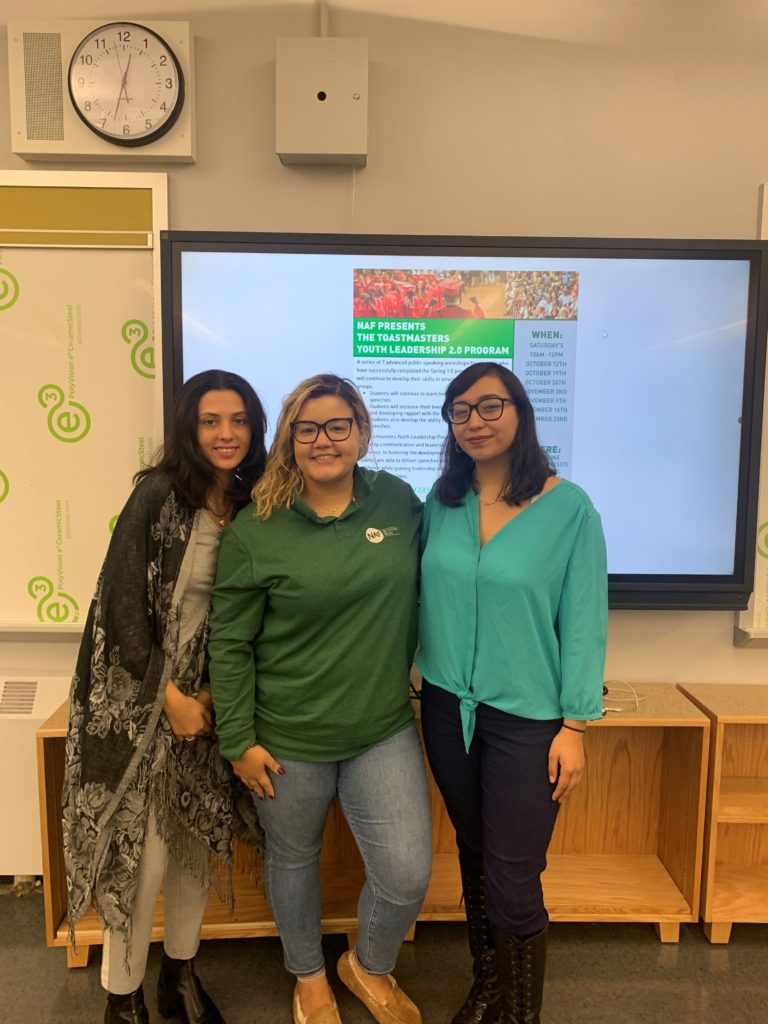 When Monica was in graduate school, she could count the minorities in the classroom on her hand. Some teachers would even ask for her "minority perspective" on topics. "I struggled my first semester because of that," she said. "I thought, 'Well if this is a school in the city, everyone should look like me.' But then you look at factors that might come into play like financial issues and it makes sense." During this time, Monica learned about racial microaggression and the hardships that can arise from being the minority in a professional environment. Fortunately, Monica had a supportive mentor that helped her during the rest of her time at NYU. Although she was a white woman, she worked with minorities and learned the language because she knew it would be more comfortable for the people she worked with.
Now, Monica pays it forward through her job and volunteering with NAF students in the Toastmasters program. Toastmasters International is an organization with clubs worldwide focused on promoting communication and public speaking skills. Monica was required to join Toastmasters in her junior year of high school. The following year, she took the 2.0 program and then became a coach. Ten years later, Monica is still involved with Toastmasters because of her passion to help people and interest in working with teenagers. Being someone who went to high school in NYC and close in age with students, she's able to relate to them. She's even able to coach some students in Spanish to put them at ease.
Knowing from experience, Monica can confidently advise students to push through adversity to succeed. "You can do it," she says simply. "You're the only 'no' in your path. No matter what, there's always a way. No matter how many people say you cannot, you can. Because nobody knows your potential like you do. It doesn't matter how you look; the more different you are, the more you have to give to the world."