Name A Future with NAF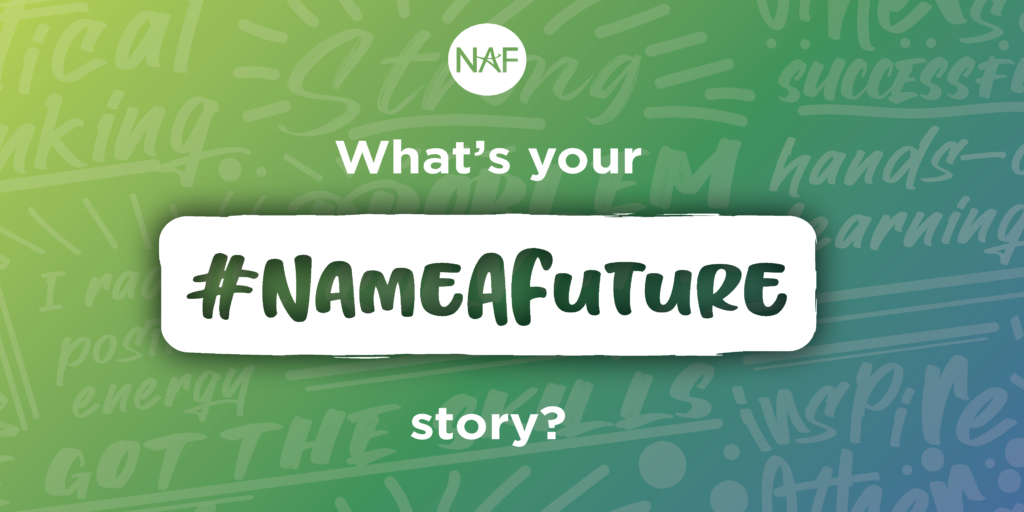 NAF is excited to kick off our new spirit campaign, Name A Future! Name A Future is a movement to ignite, evoke, and share the pride we all feel as members of the NAF network with each other, with our families, our friends, colleagues, and most of all, with NAF students. We aim to better connect network members, like you, with the NAF brand and all that it stands for. Throughout this year-long endeavor, we'll be sharing toolkits to support academy events, along with offering marketing materials, social media giveaways and contests, Name A Future-themed merchandise, and more!
If you're joining us at NAF Next, you'll get a chance to see the campaign in action. If not, no problem – you'll have your chance to get involved too. Below you'll find two ways to get involved today!
1) Share your Name A Future Story
Share your story by answering one of our questions below on social media, by recording a video, or putting it in the post caption. Be sure to use the hashtag #NameAFuture and tag us @nafcareeracads!
What's your #NameAFuture story?
Who helped you #NameAFuture? Give them a shoutout!
How do you help NAF students #NameAFuture?
The NAF network is already sharing their stories, read some of their testimonials below:
"To become an engineer, I first had to learn what an engineer was. To build the future of my dreams, I first had to name it. We live in an era of ~manifesting~ and as NAF students, we manifest our future success by putting in the work. With NAF, we've got the tools, opportunities, and confidence to first Name A Future—then make it happen."
2) Get your Name A Future Merch – Be Runway Ready!
Looking to show your NAF spirit offline? Visit our newly revamped NAF store, where we've recently added new trendy and cost-effective merchandise! As we all begin to return to in-person activities, this is the perfect time to update your NAF swag collection!
Stay tuned as we continue to update the store and add Name A Future themed gear later this year!
Make sure you are following us on social media for a sneak peek at our new merchandise, modeled by NAF students and alum, and for more inspirational anecdotes from our network.
Network members, like you, will be an integral part of this national movement to help empower and support NAF students, as they take their next steps into college and the workforce, ensuring the next generation of leaders are future ready!
---