Rise! NAF Releases its 2021-22 Impact Report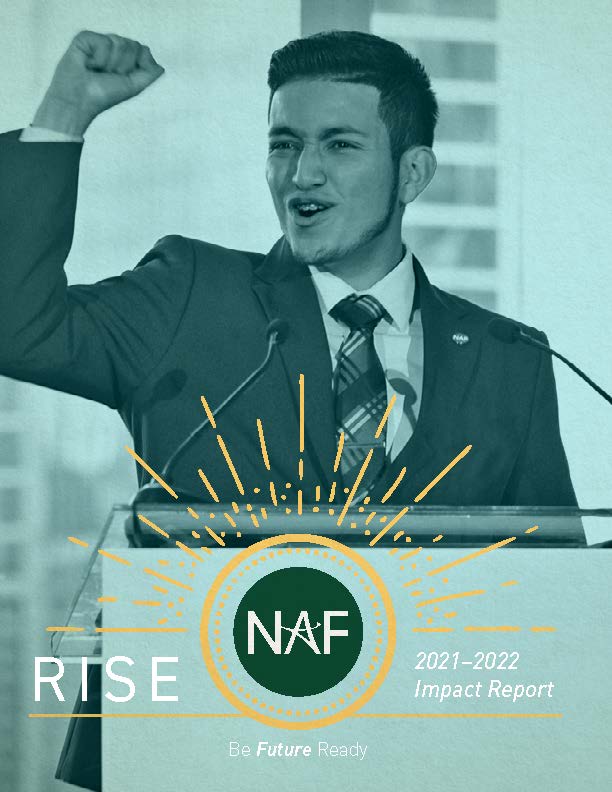 In the midst of a pandemic, political discord, and civil unrest, the NAF network has risen to the challenge and stands together under a shared mission. We have pivoted to provide innovative opportunities and increase access for our academies and students — when many opportunities didn't exist or were unavailable.
While overall enrollment in many schools decreased, NAF enrollment increased because of the efforts of our network to keep 120,000 students connected to their classwork and their future aspirations. Despite all the obstacles faced, the commitment to quality never wavered.
We are taking bold steps, as we progress forward in the second year of our strategic plan, highlighted in this year's impact report, Rise. Our priority is to ensure that we can dig deeper into the communities that need NAF the most, delivering excellent and equitable programs and resources for students and educators. The pages ahead illustrate examples of the work that is happening and how we plan to amplify in the years to come. We are rising to new heights once seemingly unachievable!
This year's Impact Report highlights our strategic plan milestones reached, the significant progress we've made in public policies that support students, the great support received from our national partners, and the successes our academies have achieved — thanks to the dedication of our donors and partners.
Read this year's Impact Report to learn more about what we have accomplished together over the past school year. We have so much to be proud of – thank you for being on this life-changing journey with NAF!