Rise to the Moment. Rise to the Challenge. Rise to the Opportunity.
NAF's Benefit Honors Stephen J. Squeri, Chairman & CEO of American Express, and NAF's 35+ year Partnership with the Company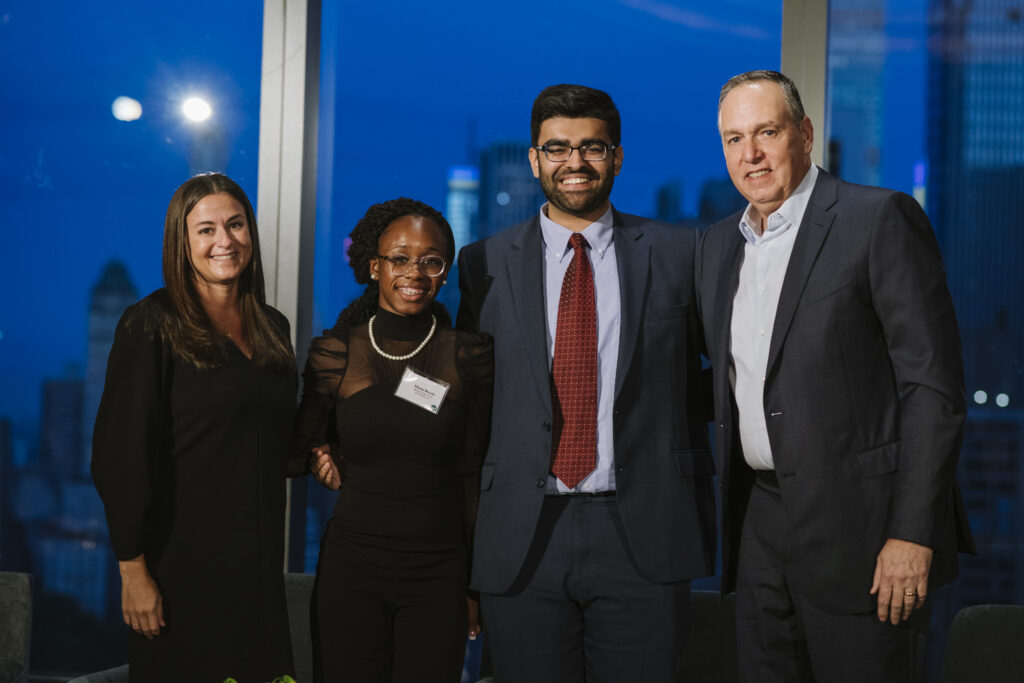 On May 11th, the NAF network gathered in-person for the first time in three years to celebrate NAF's 18th Annual Benefit, held at the Mandarin Oriental in New York City. We were proud to honor Stephen J. Squeri, Chairman & CEO of American Express, and celebrate 35 years of partnership with American Express.
NAF Chief Executive Officer, Lisa Dughi, reflected on the unwavering commitment, tenacity, and passion of the NAF network, in always putting students first.
"Rise to the Moment, Rise to the Challenge, Rise to the Opportunity is the theme for tonight's event, but it also represents what our students, educators, and partners have always done," she said.
Like the saying goes, "It takes a village" to move the needle and make a difference for the next generation of leaders. Throughout NAF's history, we've been able to deliver on our mission because of our amazing partners.
Dughi continued, "One such partner is American Express and their Chairman and CEO Steve Squeri, who we are proud to honor tonight. American Express has a storied history with NAF, starting with our Chairman, Sandy Weill and including Board Members and former CEOs of American Express, Jim Robinson and Ken Chenault."
American Express joined forces with NAF in 1987 and supported the launch of NAF's Academies of Hospitality and Tourism. Through their partnership and investment, and now under Mr. Squeri's leadership, thousands of students have been exposed to thriving career pathways in Hospitality & Tourism and beyond.
In addition to the financial backing, American Express also championed the development and launch of the entire Academy of Hospitality & Tourism curricula, which includes courses on Customer Service, Event Planning, Geography for Tourism, Hospitality Marketing, and Sustainable Tourism. All the curricula are currently available on NAF's recently launched Future Ready Learning.
"We are proud to back NAF and help high school students thrive as they prepare for future careers," said Stephen J. Squeri, Chairman & CEO of American Express. "There's no better investment than backing the next generation. I encourage other businesses to get involved and experience the difference that NAF makes in getting students ready for the strong and sustainable workforce that our country needs."
NAF high school students shined brightly at the Benefit, as young people from eight NAF academies throughout the country presented their work-based learning projects to representatives from America's top companies and demonstrated how they have used their classroom and real-world experiences to prepare for college and careers. Another highlight of the evening was a panel discussion with NAF CEO, Lisa Dughi; Honoree, Stephen J. Squeri; and a current NAF student and alumnus.
Key highlights included unpacking what it means to be a good leader and the importance of giving back.
NAF alumnus, Kartik Tyagi, spoke about rising to the challenge and ensuring a sustainable future workforce.
"While we all have challenges, the key challenge that we all share is that of enhancing workforce readiness, promoting workforce proficiency, and minimizing workforce shortages. That's a challenge we can't sit on the sidelines for," he said.
Honoree, Squeri, shared about the lessons and mentors that have stuck with him throughout his journey.
"There are two things about leadership; you have to have great values – such as integrity and trust – and something that I learned from Ken [Chenault] is that if you want to be a great leader, you have to be willing to serve," he said. "To be successful, you need to have vision, good judgment, and be able to communicate. You can't replace good values and the mindset that you are there to serve."
The Benefit raised funds to sustain NAF's mission nationally, and supports programming, training, and materials for NAF teachers, directors, and students throughout the country. This year, the event raised over $1.2 million for NAF and was a memorable opportunity to illustrate the legacy of NAF and American Express being in one room together.
Here's to another 35+ years!