Mr. Robert Almonte of Manhattan Bridges High School Reflects on the Importance of Hispanic Heritage Month
Manhattan Bridges High School serves 100% Hispanic students in the heart of New York City and this fall, as NAF celebrates Hispanic Heritage Month, we're spotlighting our network members who have made a difference each and every day for our future leaders. Mr. Robert Almonte, who has served at Manhattan Bridges High School for seven years as the NAF Work-Based Learning Coordinator and also teaches Algebra 2 and Geometry, leads by example and uses his own experiences to inspire the next generation to unlock their full potential and reach for their dreams.
Read below for more on Mr. Almonte's life lessons; how Manhattan Bridges High School prepares students for successful futures; and how we can support our young people's journeys.
How did being Hispanic impact your high school/college/career experience?
Mr. Almonte: What I have learned is that each one of us has a very important role to play in our society and it is essential to find purpose early on in our lives. However, what's even more important is that we are interdependent, and that our actions positively impact others. It is in the latter part of my career and life that my passion and conviction is becoming more and more apparent: We are here to share what we have with others! My high school, college, and career experiences have all served to educate me and help me find my place in the bigger spectrum of society. I have found that education has allowed me to understand that as a teacher and NAF educator, I am here to do much more than teach concepts to students. I am here to educate, empower, and better prepare students by equipping them with the life skills that they will eventually need to not only become more well-rounded, but also find their niche and purpose.

What do you wish you could tell your younger self about navigating your education as a member of the Hispanic community?
Looking back at my life and navigating through my education as a member of the Hispanic/Latino community, I wish I could have told my younger self to stay focused on remaining passionate and disciplined and to use my time effectively to reach excellence in whatever I set out to accomplish. Consequently, it is so easy to lose focus and to just become "one of the many" and settle for less. In fact, as I write these few words, I am telling my older self these words… I want to begin to live even more passionately, balanced, and productively, while keeping in mind that my ultimate goal is to add value to those who I come into contact with.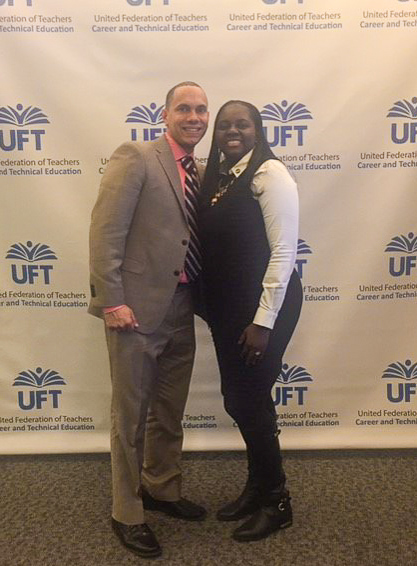 How does Manhattan Bridges High School prepare its students to be college, career, and future ready and take pride in their Hispanic heritage?
As teachers and staff members, we are constantly reminded that our goal is to teach students to become immersed in the lesson, think outside of the box, and make learning tangible by engaging our students in various cooperative learning activities and modeling problems with real-world examples. The vision of Manhattan Bridges High School is to educate recent immigrants, as well as dual-language students, so that they may obtain the skill sets needed for college and career.
What's your advice to current Hispanic NAF students?
I would tell Hispanic NAF students that "Success Leaves Clues" and to not only observe and stick by students who are already doing well, but also, to look for mentors and programs that will help them find their passion. Oftentimes, what we all need as people is just a little bit of guidance into the 'right' path, the rest we can take from there. Together we can achieve A LOT more.
How can our society better support our Hispanic students and alumni?
It is important to continue promoting and marketing the need for Hispanic students to become part of programs such as NAF, where they can pursue their passions and prepare for a sustainable career.
Patience is important, when it comes to instilling in students the necessity of obtaining employment experience during their academic careers, and we can only do that with greater access to the corporate world outside of our doors.
Follow NAF on Twitter @NAFCareerAcads for more #HispanicHeritageMonth content!