Seven Lessons in Youth Engagement
NAF wants our network to lead among other career-minded high school models by incorporating youth's experience into the academy experience. Wenonah High School in Birmingham, AL showed us that even when constrained by pandemic conditions, this goal has tremendous merit and implications for the NAF design and desired outcomes for students.
In their own words …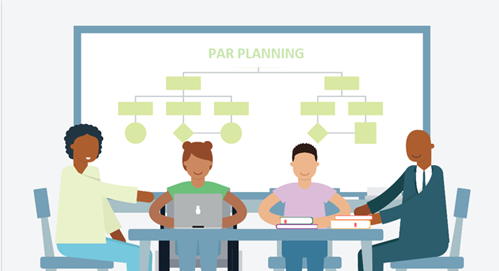 One year after completing an extended Youth Participatory Action Research (YPAR) project in partnership with NAF in Spring 2021, youth and adult allies reflected on the experience and its perceived impact on them and their school community. The YPAR summary offers more about the issue the student researchers identified; the research they conducted; the support they received from allies; and the initial actions they took to drive change. Wenonah HS Youth PAR Overview
Overall, the student researchers and allies described the Youth PAR experience as positive, valuable, and critical for themselves and their school community. Their documented reflections offered insights for NAF that validated many of the YPAR processes and approaches we used — while also spurring review and planning for modifications and enhancements to the YPAR Toolkit. Most importantly, the collection of researcher reflections presents the "compelling why" for academies to do more to authentically engage students in shared ownership of school and community issues.
Lessons in Youth Engagement
When asked to reflect on the highlights of the PAR experience, student researchers shared the following feelings and/or components of the process. They are grouped by emerging themes.
Sparking Change and Engagement
Having ally and school community participate in youth-led actions.  
Being a part of a committed group of students who wanted to spark change.
Feeling empowered – learning that a few CAN do a lot.  
Feeling Valued
Participating in a process that sought out student voice on school issues.
Being compensated for our work and time – even though we were working to improve our own situations.
Finally, feeling seen, heard, and valued throughout the sessions of the project. (Great brainstorming and planning sessions).
Experiencing Collaboration, Support, and Camaraderie
Experiencing a different level of peer collaboration, support & camaraderie by having peers who work together and could/would "pick up my slack" when needed.
Analyzing Data
Being able to come together to [review and] fill out information in Excel.
Learning HOW TO collect and analyze data.
Preparing for the Future
It felt good having something different to add to my resume; experiencing work, like a real first job – including learning new skills; working together to deliver a product for which we felt accountable to the community; presenting our ideas and perspectives in an organized and professional way.
Both student researchers and the adult allies shared low or pain points from their PAR experience. The emerging themes in the feedback are presented below and will inform the development of new tools and training modules.
Communication and Messaging
Recruiting and motivating youth to participate as researchers in the project when it was something new. Few understood what they were signing up for and some chose to drop out of the project mid-way.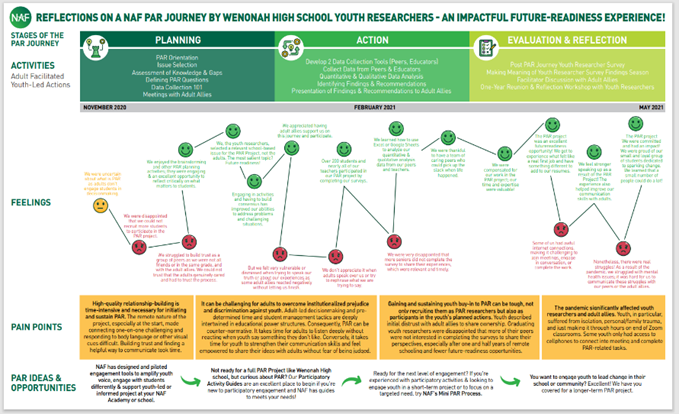 This NAF PAR Journey Map offers a visualization of the processes of the full Youth PAR experience – along with the key learnings from the participants and ideas and/or potential improvements. Download a copy of the Journey Map for a more detailed review of what worked about the Wenonah HS Youth PAR pilot and what we all can learn to improve young people's engagement experiences.
Trust Building
Student researchers shared that it was hard to initially trust their peers, the allies, and the PAR process. They were careful not to fully "buy-in before knowing if the adults involved genuinely cared." Couple that with unreliable internet connection during the pandemic and it is understandable why trust-building was challenging and took months to establish. Additionally, youth shared that the absence of trust initially kept them from sharing the personal and mental health challenges they were experiencing during the project.
Sense Making for Improvement
These learnings and youth reflections of positive experience, personal growth, self-empowerment and self-advocacy should inspire each of us to do more to ENSURE that similar outcomes become standard for each graduate's academy experience.
Kudos to the NAF educators who are giving of their time and expertise this fall to help improve and make more accessible the Youth PAR tools and activities. Be on the lookout for enhanced resources in the coming months.
Improving Engagement With and For Youth
Check out the PAR Tools and resources now available in ASH. Click here for the NAF PAR Toolkit – including Participatory Activities for exploring data and issues from the NAF Student Survey with students. See Resources under the Student Guide 2022 in ASH.