Spotlight on the 2020 Lenovo Scholar Network Fan Favorite Winner
Our team developed the Sports Medical Assistance Needed (MAN) app which helps to prevent, diagnose, and offers information on how to treat common sports injuries. The prevention section also helps with exercises and stretching with video guides. The app was created by extensive research into injuries and talking with student athletes, coaches, and medical professionals about these topics. It covers prevention and immediate treatment of injuries related to different sports, the intensity of injury, and the body part affected.
About the Sports MAN App:
Inspiration:
The app was inspired by our own experiences, becoming injured while playing sports, and being afraid and unsure of what to do in the immediate moment. The goal of the app is to empower youth to take charge of such situations and be prepared to prevent them.
About the Research:
While the number of young people participating in organized sports continues to grow, there continues to be a severe need for professional athletic trainers to provide the support, guidance, and safety measures that every sport needs. This shortage of athletic trainers and trained medical personnel in sports environments is especially exacerbated in rural areas, in which many people live far away from hospitals and where medical professionals are harder to access. In fact, 90% of youth athletes get injured at some point while playing sports, accounting for more than 3,500,000 doctor visits.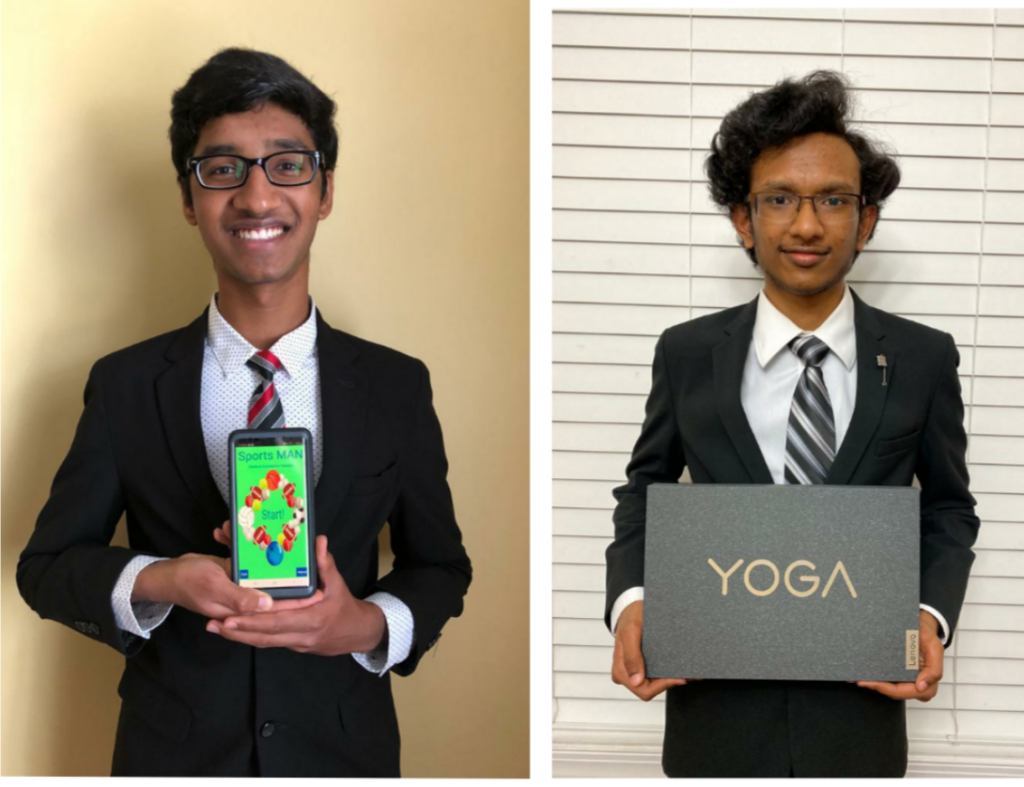 Especially in the time of COVID-19, this need is exposed every more – as it is dangerous to go to the hospital for anything but major injuries. Apps such as Sports MAN can help young athletes practice safely and have the knowledge to prevent injuries and treat them.
Challenges:
While initially creating our app, we had to modify features to differ from our original design, as we learned to navigate and create with the software. Another challenge we faced, was the overwhelming variety of sports injuries, which we thoroughly researched and compiled a list of the most common acute injuries, as well as chronic injuries that could be prevented.
Our Reaction to Being Named the 2020 Fan Favorite Winner:
We were ecstatic when watching the NAF Next livestream and were announced as the 2020 Fan Favorite winner. Months of research, learning, outreach, coding, and hard work all culminated in this title. We are glad that our app was recognized by the masses and this recognition gives us the platform to research, grow, and improve.
Our Thanks to NAF and LSN:
We are very grateful to NAF and the Lenovo Scholar Network for this opportunity! The NAF curriculum and the mobile app development program offer very interesting and unique opportunities that we could participate in through our school's Medical Bioscience Academy. The courses we are able to take and the diverse opportunities we have been given, have allowed us to experience the various careers in STEM fields and see with our eyes what paths our futures can take. NAF and the Lenovo Scholar Network made this challenge possible by sponsoring and establishing the competition, as well as facilitating the judging. We would like to emphasize our appreciation to NAF and the Lenovo Scholar Network for this opportunity!
More About Us:
The Sports MAN team is composed of Rishi R. and Likith S., both juniors at Enloe High School in Raleigh, NC and a part of our school's Medical BioScience Academy. We are both leaning towards medical or STEM careers.