Success in Public Speaking with the Toastmasters Youth Leadership Program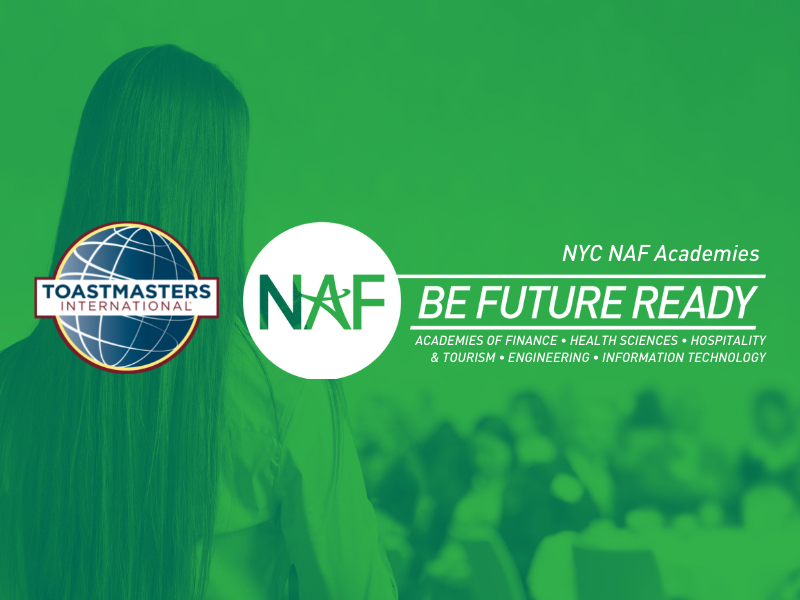 I was excited to experience another NYC NAF x Toastmasters Youth Leadership Program graduation, and despite it being held virtually, I knew the students and coaches would not disappoint. 23 NAF students participated in this leadership program and displayed their newly acquired skills for all attendees!
The Toastmasters Youth Leadership Program is a series of public speaking meetings, with a workshop style design that encourages NYC NAF high school sophomores, juniors, and seniors to develop a new skill. Students attended 6 meetings on Saturday mornings from 10 AM – 12 PM via Zoom with their coaches ready to support in any way they could. This program encourages students to develop communication and leadership capabilities through practical experience. Gaining skills like learning the various speaking roles and different speech styles, understanding the importance of preparation through weekly role assignments and practice, growing through honest supportive peer evaluation and feedback, and organizing and presenting ideas logically and convincingly.
The graduation was hosted by two Toastmasters. The role of the Toastmaster for a meeting is simply to facilitate the program, to ensure each role and speaker is introduced properly, so the audience is aware of what to expect. The meeting ran smoothly with Toastmasters introducing students who spoke on various topics ranging from mental health, future career aspirations, period poverty, food waste, and privileges of American education.
The instructors and coaches did a tremendous job achieving their goals in preparing the graduates with the skills they'll need to be confident in public speaking.
"Being a Toastmasters coach takes a lot of hard work and dedication because your role is to guide, teach, and support students. Especially teach them how to write, prepare, and most importantly how to execute a speech. Throughout my Toastmasters experience I would say that my coaches have mostly taught me how to embody my speeches." – Ndeye Amy F., NAF Senior, Academy of Economics and Finance
"I was in your position, as a junior in Richmond Hill High School, with the dream of speaking in public. One of the biggest things that I learned was to listen, learning to hear feedback. Many of these students today are graduating with the ability to listen and the ability to trust your own voice. Your voice is extremely important, your voice is something that matters." – Monica Suarez, NAF Alumna & Program Coordinator
By developing their public speaking techniques, these NAF students delivered speeches with improved confidence. Ultimately, students gained transferable skills to help them advance in their personal, academic, and professional growth. With an applause from the audience of advisory board members, former instructors of the program, Toastmasters international club members, parents, NAF staff, and school program coordinators-the graduation came to a close and these 23 students are off to #BeFutureReady.