Understanding What It Means to Be Culturally Responsive
In recent years, many inequalities facing our nation have been brought to the forefront of our media, politics, and communities. From the wrongful death of many Black Americans to an increase of Asian-American and Pacific Islander discrimination, the time is now to address these crucial issues and pave the way for change – and that includes giving the next generation of leaders a seat at the table. Tomorrow's leaders will be the most diverse in history and it is imperative that we examine our educational systems and how they serve students. How can we ensure that schools stay up to date on strategies for increasing awareness, feel prepared to engage in conversations, and allow students to be a part of the dialogue? The answer is to be more culturally responsive.
Cultural Responsiveness is a term in education that focuses on the current socio-political climate affecting students. Culturally responsive schools foster a healthy environment for students to process the changing world around them. As this concept evolves over time, from keeping a lens on reforming curriculum at a macro level to taking action within our schools, together we can lift up the individuals who impact a student's educational experience the most.
Staff and educators set the tone and build a solid foundation of cultural understanding, contribute to the academic success of all students, and activate sociopolitical consciousness in their colleagues. [1]
Below are the eight areas that comprise a Culturally Responsive learning environment: [2]
Equity and Access
Mission, Vision, and Core Values
Instruction
Adult Learning and Development
Operations and Resources
Personal Learning and Development
Strategic Change and Continuous Movement
Community Care and Engagement
For over 40 years, NAF has been partnering with under-invested in communities to transform the high school experience and inspire every type of learner. We envision a world in which ALL young people have equal opportunities and can reach their full potential, regardless of zip code or demographics.
"NAF's proven educational design is rooted in the importance of curriculum to an authentic educational experience. It is imperative that as we evolve as an organization that we develop a framework for reviewing and vetting curriculum to ensure that it is culturally responsive and affirming. As we partner with school districts and industry partners across the country; we are all clear that representation matters. Through this partnership we design project, activities and experiences that reflect the diversity of the network, reflect the lived experiences of the students that we serve and elevate the voices of the students in the process." – Tara Bellevue, Vice President Inclusion, Diversity, Equity and Access (IDEA)
To illustrate an example of one of NAF's districts that has begun to put this into practice, Dr. Patricia Ellis, Interim Director, Department of Equity, Access, and Inclusion, Milwaukee Public Schools, spoke with us about how essential it is to create a culturally responsive and equitable learning environment for all students. Not only is it vital for the wellbeing and safety of all MPS students but reinforces the fact that a young person's setting can directly affect success.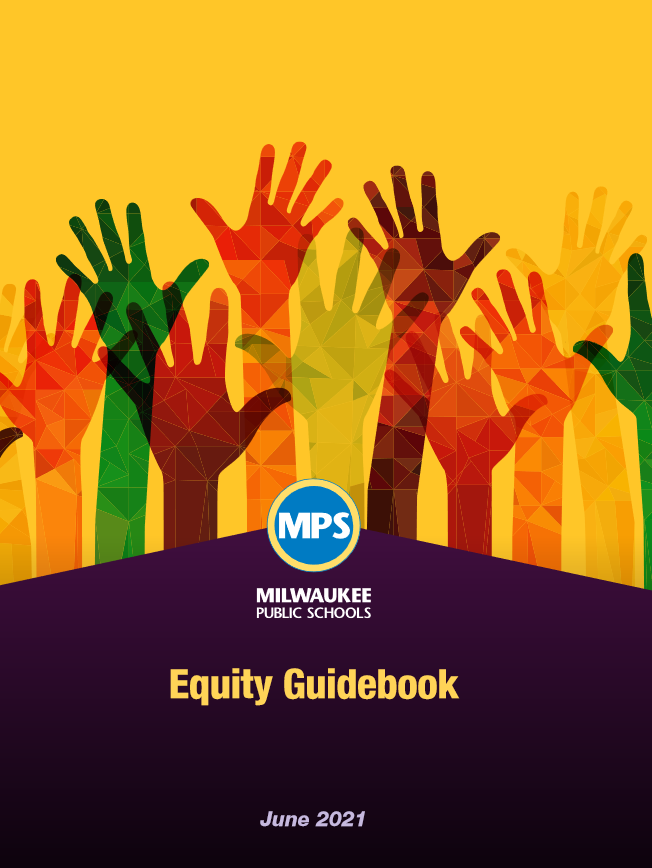 Dr. Ellis was instrumental in contributing to The Equity Guidebook for the district – a living document that will regularly be revisited and revised to reflect the diverse needs from a local, national, and global perspective. To guarantee that all voices were being represented, input was and will continue to be sought from an array of stakeholders that include students, families, educators, and community organizations.
"When I hear the term culturally responsive, what comes to mind immediately is creating and sustaining environments at all levels that honor all students, families, and staff, along with promoting, nurturing, and furthering brilliance, an enthusiasm for deepening awareness, skills, and knowledge, a sense of happiness and joyfulness, and a sense of curiosity and inquiry on a daily basis that enables all of us to engage in ways that reflects valuing and respecting all of humanity. This would be reflected in our words, actions, relationships, and ability to be flexible and adaptable to changing and evolving needs in a timely manner." – Dr. Patricia Ellis, Interim Director, Department of Equity, Access, and Inclusion, Milwaukee Public Schools
It is critical that students play a key role in designing a world we all want to be part of: One that is diverse, understanding, accepting, and supportive. Let's do all that we can to empower our future changemakers.
Our next blog will present a deeper look into the conversation between NAF and Dr. Patricia Ellis, focusing on rethinking equity through a global and holistic lens; what equity looks like in our current climate; and the importance of spearheading an equitable learning environment for students.
References:
[1] The Leadership Academy. (2021). Portrait of a Culturally Responsive School. https://bit.ly/3GhWQAp
[2]  The Leadership Academy. (2021). Portrait of a Culturally Responsive School. https://bit.ly/3GhWQAp
For more background, read: A Portrait of A Culturally Responsive School by The Leadership Academy.
---