Youth Engagement, Voice, and Action Toolkit
When adult allies conceptualize youth as assets—and youth have power to participate fully, a program is more likely to succeed.
Are youth considered partners in their own educational journey in your school(s)? How might youth and adults work collaboratively to improve schools and communities? Do educators see students as assets to efforts to improve our schools(s) or merely recipients of the work and decisions of adults?
NAF has compiled the Youth Engagement, with PAR Toolkit for educators and partners who are working to ensure the presence of spaces within schools for authentic youth engagement and youth-informed approaches to learning and decision-making. Resources, activities, and tools are organized to guide you, youth participants, and allies through a full cycle of a Participatory Action Research project. These resources are housed within a single Google document but can be accessed and used independently to support participatory activities not embedded in a defined PAR project.
Once downloaded, feel free to modify, reorganize, and/or replace items in your personal toolkit with activities or templates that better fit your participants, timelines, and/or issues.
Share your Youth engagement experiences and/or tools with us at support@naf.org or contact NAF for more information about youth engagement + PAR.
Increasing Youth Engagement: Highlighted resources from the toolkit are presented below
A Literature Review
Review research presenting benefits of and considerations for engaging young people
Find tools supporting use of PAR as an approach for integrating youth voice in the school community
Explore success factors and barriers to successful implementation of PAR with young people
Links to referenced research and related tools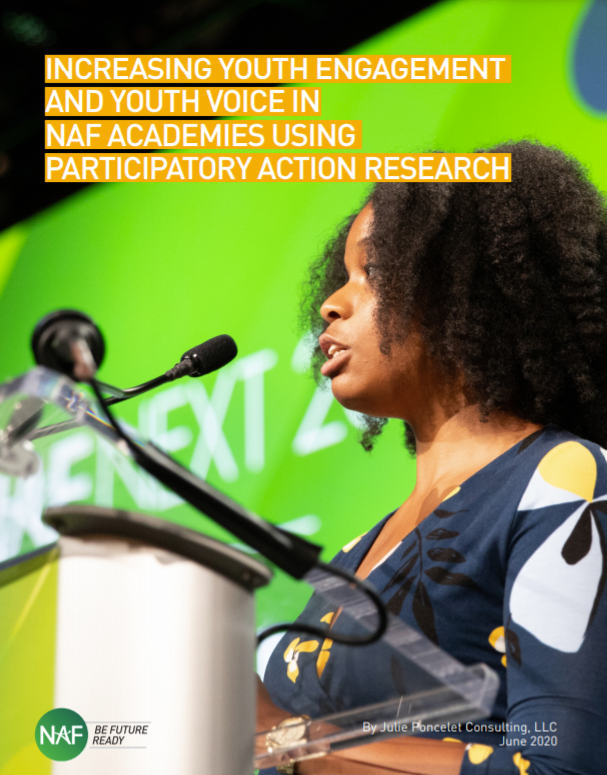 NAF Youth Engagement Readiness Tool
Use the NAF Youth Engagement Readiness Tool to help your organization rate its youth engagement practices and understand its areas of strength and areas for improvement.
Watch the videos below to learn more about the importance of youth engagement in schools and communities and how Participatory Action Research (PAR) can provide the framework needed to create a more youth-centered learning environment.
Youth Engagement + PAR 101​
Want to learn about PAR with Youth? This video introduces you to the Participatory Action Research with Young People. It provides an overview of PAR and how to use it to support youth engagement.
What does it mean to be an Adult Ally in Youth PAR?​
Who are Adult Allies and what do they do? This video identifies the roles adults can play as allies in PAR projects with youth. It identifies the roles of adult allies and the characteristics of positive allyship.
How can we successfully implement PAR with Young People?​
Are you interested in engaging youth in a participatory action research program? This video walks you through what works and what doesn't when implementing PAR. Learn about the Factors and Barriers to Successful PAR Implementation and review side-by-side graphics that summarize these key considerations.
Are you READY for youth PAR?​
What does it take for a school or community to be ready to implement Youth PAR? This video outlines key elements of organizational readiness for launching PAR with young people. A PAR readiness tool is also presented.