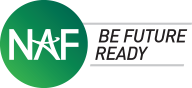 Brooke Buchanan
Senior Director, Administrative Services
After graduating from Tufts University, with a degree in Sociology, I moved to New York and began my career working as an event planner, mainly planning for non-profits. After working in events for five plus years, adding weddings and parties to the mix, I realized that my passion was in helping non-profits successfully deliver on their missions. Having only worked with Development departments of my nonprofit clients, I returned to school to expand my knowledge of nonprofit work and earned an MPA in Public and Nonprofit Management & Policy from Robert F. Wagner Graduate School of Public Service at NYU. I came to NAF as a temporary employee working with the Institutional Advancement team before moving to the Communications Department. When a position became available that enabled me to work with all departments within NAF, I was thrilled. My past experiences with various departments within NAF provided me with the background that has been invaluable to my current role.
Andria Korecki
Director, Human Resources
As a freshman at Messiah College, my intention was to major in accounting. When speaking with my faculty advisor, it became apparent that I wanted to pursue a profession where I interacted frequently with people. That day I changed my major to Human Resource Management and never looked back. After two paid internships and completing my Bachelor's Degree, I began my first full-time role with an executive search firm. Thereafter, I went on to work for New York University, holding several positions within Human Resources. While there, I attained my Master's Degree in Human Resource Management. With a solid foundation as a generalist in HR, I sought a position where I could be more closely connected to the mission of my employer. This is what eventually led me to work for NAF. Making a valuable difference in the lives of high school students is one of the most rewarding benefits the organization offers.
Nora Proujansky
Administrative/Human Resources Coordinator
I grew up in rural Western Massachusetts and my own education experiences at Greenfield Center School and Pioneer Valley Performing Arts Public Charter High School lead to my interest in education. While studying at Eugene Lang: The New School for Liberal Arts as an undergraduate I focused my studies on 19th century American history, specifically early feminism. I also worked as a nanny after class and interned at two schools — one public and one private. I later interned at the New York Historical Society. I learned a lot at my internships, mainly that I didn't want to be a historian or a classroom teacher. But I would never have known that without the hands-on experience. Following graduation, I worked restaurants and eventually rose to become the general manager of a small Brooklyn-based restaurant group. My experience there taught me many things: patience, empathy, understanding, and the ability to think on my feet (literally and figuratively!) I am excited to be working with NAF!