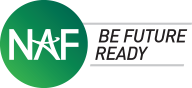 Vikki Basilico-Covarrubias
Manager, Human Resources
I went through my undergrad years pretty directionless. I graduated with a Liberal Arts degree, concentration in Literature, because that's where most of my credits happened to fall.  I remember going to my college's Career Services office in the last few months of my senior year, having had no such resource back in high school, looking for guidance as I'd only held temporary summer and campus jobs up until that point. I was given another student's resume and told to copy the format because it was laid out well…and that was it! The sum total of career readiness direction I received before entering the post-collegiate world.
I spent my early 20s bouncing from one job to the next, working everywhere from a brewery to a publishing house to a city government agency. My luckiest break came in 2003, when I contacted a former colleague at a non-profit youth services organization to ask if I could use her as a job reference. She invited me to interview for an entry-level HR position. I got the job—and finally found something that resonated with me. I stayed for 14 years, advancing to lead their HR department and earning a Certificate in HR Management from NYU School of Continuing & Professional Studies; a Masters in Industrial and Labor Relations from Baruch College; a Senior Professional in Human Resources (SPHR) and the Society for Human Resource Management's Senior Certified Professional (SHRM-SCP) certifications.
My own winding path to my career makes me appreciate NAF's mission all the more. Particularly as an HR professional, I can appreciate that giving students the tools and support they need to be Future Ready is a win-win.
Brooke Buchanan
Senior Director, Administrative Services
After graduating from Tufts University, with a degree in Sociology, I moved to New York and began my career working as an event planner, mainly planning for non-profits. After working in events for five plus years, adding weddings and parties to the mix, I realized that my passion was in helping non-profits successfully deliver on their missions. Having only worked with Development departments of my nonprofit clients, I returned to school to expand my knowledge of nonprofit work and earned an MPA in Public and Nonprofit Management & Policy from Robert F. Wagner Graduate School of Public Service at NYU. I came to NAF as a temporary employee working with the Institutional Advancement team before moving to the Communications Department. When a position became available that enabled me to work with all departments within NAF, I was thrilled. My past experiences with various departments within NAF provided me with the background that has been invaluable to my current role.
Nora Proujansky
Administrative/Human Resources Coordinator
I grew up in rural Western Massachusetts and my own education experiences at Greenfield Center School and Pioneer Valley Performing Arts Public Charter High School lead to my interest in education. While studying at Eugene Lang: The New School for Liberal Arts as an undergraduate I focused my studies on 19th century American history, specifically early feminism. I also worked as a nanny after class and interned at two schools — one public and one private. I later interned at the New York Historical Society. I learned a lot at my internships, mainly that I didn't want to be a historian or a classroom teacher. But I would never have known that without the hands-on experience. Following graduation, I worked restaurants and eventually rose to become the general manager of a small Brooklyn-based restaurant group. My experience there taught me many things: patience, empathy, understanding, and the ability to think on my feet (literally and figuratively!) I am excited to be working with NAF!
Candida Vazquez
Operations Associate
I was born and raised in Brooklyn, and I am the youngest of 4. During my public-school years, I would audition for all the school plays and would always land the lead roles. After graduating from Louis D. Brandeis High School, I went to Long Island University's CW Post where I majored in Public Relations and took a ton of theater electives. In 2006, I transferred to The City College of New York to be closer to my family and started working at a nonprofit off-Broadway theater as an usher which allowed me the flexibility to take acting classes and attend college full time. After a year and a half of being back home, I became a mom and took some much-needed time away from school and acting classes to focus on working hard to provide for my son. In 2014, I went back to finish school. I switched my major to Theater with a minor in Public Relations. I was in my element during those last two years of college. I learned how to write screenplays and even directed two one-act plays. I graduated in 2016 with my bachelor's degree. After graduation, I worked on a few shows but quickly realized that I needed something more stable to provide for my son. I knew that a nonprofit organization that focused on youth would be a better fit for me. I joined the Professionals for Nonprofits temp agency in 2017 and was placed in jobs that ranged from charter schools to organizations that provided opportunities to underprivileged kids. Now to have this opportunity to work at NAF, knowing that I am part of a team that is focused on the betterment of students truly brings me joy.