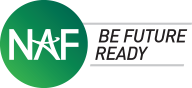 DeAira Handugan
Assistant Director, Future Ready Labs
I double majored in Family and Consumer Science and Business Management at Central Washington University in Ellensburg, WA where I also received my Master's in education. I taught Family and Consumer Science, which included NAF academy courses, at a high school in the Seattle from 2010-2015. My favorite part of teaching was building relationships with my students and witnessing how the relationships impacted their desire to learn content in my courses. The NAF curriculum, business partners, and cross-cultural projects challenged my previous perspective about teaching and prompted me to begin a doctoral program in Educational and Transformative Leadership at Concordia University. As a teacher, I was able to witness how NAF positively affected students in academic and career success in ways I could not have imagined.
Stephanie Lapera
Future Ready Lab Specialist
Teaching was the first profession I remember wanting to pursue, however, my high school chemistry teacher inspired me to take a different path. With the intention of going to pharmacy school, I declared my major in chemistry at San Diego State University. By my senior year in college, I had started working in a research lab and all dreams of pharmacy school faded away. Not feeling fully prepared to enter the workforce, I applied to graduate school to get more hands-on experience in the lab. Graduate school also exposed me to teaching, as I worked through graduate school as a teaching assistant. After graduation I became a senior research associate for a small biotechnology company exploring the synthesis of small molecules, formulating synthetic processes for replication, and documenting data for future use. At night, I taught chemistry part-time, which later evolved into a full-time job as an adjunct professor at multiple community colleges. As an educator, I seek to instill students with practical and useful skills they can apply in the workforce. My position at NAF enables me to merge my background in science, education, and passion for student success to help better prepare students for their college and career goals.
Melanie Newell
Manager, Future Ready Labs
I was raised in England by American parents who were academics and educators. They modeled to me the importance of travel, education, and building friendships across the globe. My early career musings were simple — I wanted to help others and I wanted to travel. For my undergraduate studies, I attended Seattle Pacific University and majored in Theology and Sociology. During this time, I spent two summers working at an ecumenical monastery in France (Taizé) where my roommates hailed from India, Uganda, Rwanda, Brazil, and the Philippines. My life was forever changed by their stories of poverty, loss, inequality, as well as hope. Through meeting people who had lived a different reality than mine, my classroom learning was translated into real life. After graduation, I moved to Belize, Central America and taught night school at an adult literacy program leading me to later pursue an MA in Development Studies in The Hague, Netherlands. My career thus far has included university study abroad programming, academic success coaching, community advocacy, and a detour at a tech startup to learn project and portfolio management. Now I am merging my experience with my desire to create opportunities and positive change for underserved students through facilitating high school internships with NAF.
Brooke Rice
Senior Director, Future-Ready Labs
As a child, I loved to play school with my friends, but the thought of becoming a teacher did not occur to me until my guidance counselor encouraged me to apply for a teaching scholarship to pay for my college education. I always had an interest in advertising and a visit to North Carolina State University showed me that I could combine these two options into one major: Business and Marketing Education. My passion for education served as the impetus of various degrees (including teaching and school administration) with the goal of serving in the area of educational reform. After 10 years of teaching marketing and opening a NAF Academy of Hospitality & Tourism in my school, I decided to join NAF as an Instructional Manager and am excited to lead NAF's latest venture as Director of Future Ready Labs.
Bill Taylor
Vice President, Outreach & Partnership Development
I graduated from high school thinking I wanted to be a professional musician, so I majored in music at the University of Central Florida. I spent my days playing music, sports, and pledging a fraternity, but failed to have an academic focus. After 3 semesters of struggle I went to work for Disney World, where for the first time in my life I was given responsibility of other employees. I blossomed in this role and was sent to France to open Euro Disney where I lived and worked for three months. Coming back home, I went back to school graduating with a sociology degree from State University of New York Geneseo. I wanted to pursue a career where I could make a difference in the world, particularly for those who have historically been underserved and denied opportunity. I moved to NYC where I taught high school, then was hired by NAF in 2000 to help launch the Academy of Information Technology.