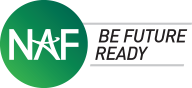 Joshua Benfield
Manager, NAFTrack Integration
I was attending Appalachian State University majoring in Business Administration focusing on banking and finance when I realized that I wanted to work with young people and have a positive impact on the next generation. After college, I was able to use my degree and interest in helping young people by becoming a high school business and marketing teacher. During my time as a teacher, I led a NAF Academy of Hospitality & Tourism. After completing a Master's Degree in School Administration from the University of North Carolina at Wilmington, I took the NAF educational design to the next level in my district, becoming an Academy Coordinator and overseeing the opening of five additional academies in three years. I joined NAF in 2015 because I believe in NAF's mission and am excited to see the impact our network is going to have in preparing students across the country to be future ready.
Patricia Brown
Vice President, Corporate Engagement & Relations
I once heard someone say "if you allow yourself to get close to the urgency, the urgency will change you".  My personal background has placed me in the center of that urgency all my life.  The youngest of nine siblings, yet the first to attend college, I saw a great deal of untapped potential in my personal environment.  I was fortunate enough to have teachers who saw my potential and provided opportunities that lead me to obtain a degree in Chemical Engineering UT, Knoxville.  My early career was with Procter & Gamble, where I worked for almost a decade.  I left to found a non-profit for youth in a high-needs community in Cincinnati.  My contributions opened doors at KnowledgeWorks where I engaged communities in the small schools movement; at Strive, where I helped to develop the cradle to career collect impact framework, and now at NAF, where I have the privilege of providing opportunities to youth to help them realize their potential.
James Cole
Assistant Director, Corporate Relations
Unsure of what I wanted to be when I grew up, I decided to study something I thought would valuable in any career, landing on business and marketing at Sacramento State (California State University-Sacramento). During college, I held administrative roles in Public Relations before shifting to a role in the education field, working for LEED (Linking Education and Economic Development). Over the next few years, I continued to explore my interest in effective communications between business and education. Before joining NAF, I worked for the San Francisco Unified School District supporting career and technical education programs, including NAF academies to help bring the business and education worlds together through work-based learning and business engagement in their future employee pipeline. I also consulted organizations creating employer manuals and state-level work-based learning plans and implementation toolkits. I continue this work today as a member of the corporate engagement & relations team.
Mike Henson
Director, NAFTrack
Athletics have always been a huge part of my life, so becoming a teacher/coach when I graduated from Fresno State was a natural transition. After coaching football for 17 years, with a slight detour in elementary education and receiving my Masters in Education Administration, I became an administrator in 1990 in the Porterville Unified School District, which provided me with a range of experiences and exposure to leadership methods and styles directed at meeting the educational needs of disadvantaged students.  I returned to PUSD in 2004 as Principal of Strathmore High School and began my journey in the development of career-themed academies.  I was fortunate to be involved in the development of Harmony Magnet Academy, one of the NAF's first 13 Academies of Engineering.  I retired from PUSD in 2010 and came to NAF to lead the regional team pilot in California. I joined NAF in 2010 and look forward to meeting the upcoming challenges of our ever-growing network.
Sarina Mathai
Corporate Relations & Engagement Specialist
Like many kids growing up with Boston sports, I wanted to be a sportswriter. I went to Tufts University and majored in English and History with that in mind. Thanks to the connections I made at a summer journalism program, I had the opportunity to work in the Boston Globe's Sports department starting my freshman year of college and I continued to work there through college and after graduation. During my senior year at Tufts, I worked for Jumpstart, an early education organization that recruits and trains local college students to work with preschool children in low-income neighborhoods. My time as a Jumpstart corps member sparked an enthusiasm for the education field. I moved to New York knowing how many opportunities there were in the education field in the city, and was lucky enough to discover NAF.
Karen Ondrick
Senior Director, Corporate Relations
My parents grew up during the Depression era.  Being their youngest child and having two older siblings, I learned early on the importance of a good education, a strong work ethic, and creating an affordable path towards success (aka a bright future).  My high school business teacher helped guide me with charting my course, although it took many twists and turns along the way.  After high school and then business school in Connecticut, I set my sights on a Fortune Global 500 path.  First a job at Allstate, which was a great environment to learn and be challenged.  When IBM called, I earnestly pursued opportunities to succeed through staff, management, and leadership roles in business operations, sales support, marketing operations, and client satisfaction programs. When IBM sold its global PC business unit to Lenovo, I suddenly found myself with a new employer.  At Lenovo, I created the strategy and built the community relations and employee engagement segment for the company's North America business.  In many ways, my roles at Lenovo helped bring me back to my roots.  I was able to merge my dedication to helping underserved youth in vulnerable communities dream big and reach for the sky with my passion for building and nurturing relationships and partnerships for maximum mutual benefit.  I am honored to continue my professional journey at NAF, helping connect students with employers while empowering and inspiring students to chart their path to Be Future Ready!