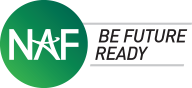 Caroline Mosley
Director, Marketing & Alumni Engagement
Ever since I took a human rights class in high school, I have been interested in helping solve the biggest challenges our world faces. This fueled my decision to major in Political Science and minor in Entrepreneurship at the University of Miami in Coral Gables, FL. While at Miami I became President of an ethics debate team and served as Philanthropy Chair and Recruitment & Marketing Vice President for my sorority, Alpha Delta Pi. After graduating magna cum laude, I interned at Global Poverty Project and worked as a Leadership Consultant for Alpha Delta Pi, facilitating leadership development and developing strategic recruitment & marketing plans at colleges across the country. I eventually returned to my hometown of New York City to pursue my passion for non-profit work as part of the marketing & communications team at NAF! Outside of work, I volunteer as a committee member for New York Women in Communications and as the northeast region Philanthropy Director for Alpha Delta Pi Foundation, overseeing the fundraising efforts of 25 collegiate chapters.
Joseiry Perez
Marketing Associate
Graduating from Seekonk High School in Massachusetts, it was always my dream to come to NYC to study and establish a career, although as a freshman I believed that the career would be in law. I applied to St. John's seeking a degree in Pre-Law. But as I began to establish myself, I realized my creativity and care for others is what would ultimately land me in a place where I could excel, so I explored my options.
As a recent graduate of St. John's University, I attained a degree in Communications while working part-time at T.G.I Friday's. In addition, I held internships during the school year with Coburn Communications, The Baddish Group, a Public Relations firm and finally with Effie's Paper as their Social Media Intern. I also had a healthy amount of extracurricular activities where I held chairs on executive boards, volunteering my time and creativity to the American Cancer Society – Relay For Life at St. John's as first their Social Media Co-Chair and then their Publicity Chair. Global Goals at St. John's was another great group with which I spent time educating my peers to the seventeen goals the United Nations wanted to eradicate by the end of 2030, such as gender equality, quality education, climate action, and more. We also completed community service projects around these goals to better our community.
From what I was interested in college, I should have known from a young age that I would be at my happiest working in non-profit, with people who genuinely want to see other humans, especially high school students succeed.
Dana Pungello
Senior Director, Communications
From a love of creative writing, grew a passion for all things communications. After graduating with honors early from the University of Massachusetts -Amherst with a Bachelor's of Arts in English and minor in Spanish, I was lucky enough to find my place in the non-profit community early on, beginning with an editorial internship in college with Alcoholics Anonymous before launching my career at a county-wide arts organization working in the communications department. I then joined a communications consulting firm serving many non-profits' strategic communications' needs before bringing my expertise in-house at NAF where I have been a leader in growing awareness of a national brand since 2010. I've continued to grow in communications and received a Master's degree in corporate communications from Baruch College in 2016.
Courtney Savoia
Manager, Communications
I had a knack for asking questions since I was young. When it came time to choose a college major, I knew that journalism was the correct path for my future. I'd be able to document unique experiences, speak to decision makers, and take a journey through all the disciplines I was interested in, all with just a pen and paper in hand. After graduating from Marist College in 2010 with a degree in Communications and a few internships in media under my belt, I began working in the non-profit practice of a public relations firm with clients such as the Alzheimer's Association, the Mayor's Alliance for NYC's Animals, Citymeals-on-Wheels, and the Fortune Society. I was proud to play a part in telling their story and bringing much needed recognition to their efforts and achievements. I am pleased to continue my career in the nonprofit arena and shine a spotlight on NAF's mission and prestigious work and accomplishments.
Ast Shango
Communications Associate
In middle school, I decided I was going to become a publicist, Dwyane Wade's publicist to be exact. I had no idea what the job really entailed, but I knew in the future that's what I wanted to do. I held on to that dream all throughout high school even though most people thought I wanted to be a "publisher" when I expressed my career aspirations. Through the Posse Foundation, I attended Babson College on a full-tuition scholarship. Out of all the Posse NY partner schools, I chose Babson for two reasons. One, it was one of the closest options. Two, I believed attending a business school would give me a greater chance of getting a job after college. In 2015, I graduated with a bachelor's degree in Business Management and no job. Although I searched desperately for a job to jump-start my career, I only landed in internships and short-term positions. It wasn't until two years later that I accepted my first full-time job.
As someone who has had many internships, I know the importance of getting exposure to a career before settling into a career. The internships I landed post-graduation were crucial in showing me what I want from a job and what I could contribute. I may not be D Wade's publicist, but I'm happy to be helping build awareness for NAF and the great work being done to make students future ready.