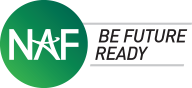 Marcy Aycock
Managing Director, Network Expansion
As a little girl, I dreamed of becoming a teacher, then a principal – in fact, I liked to play school, but always wanted to be the principal!  Coming from a poor family of eight children, college seemed an impossible dream.  In fact, my high school counselor told me I wasn't "college material" even though I had a high grade point average!  I set out to prove him wrong.  I graduated with my Bachelor's degree and became an art teacher.  Next, I completed a Master's in Education Administration and became a principal.  Then, I completed an Ed.D in Educational Leadership.  During my tenure in K-12 education I worked at all levels, and always in schools with a high "at-risk" population.  After 16 years as a principal, I was selected to develop an Early College program for a community college.  This exciting work led me to NAF.  I joined NAF in 2014 as an Academy Development Manager for Region 3.
Tara Bellevue
Senior Managing Director, Network Engagement
I was a little girl from South Carolina with big dreams and an adventurous spirit. Future Teachers of America, Debate Club, French Club, Marching Band and the Math Club were all indicative of my future endeavors. I graduated high school wanting to be a business executive. I obtained a degree in Business Administration, and worked as a Marketing Communications Manager for an international telecommunications company. With a shift in the economy, I pursued a Master's Degree in Secondary Education with a focus on business education and mathematics. This led to a series of opportunities to shape the minds of young people as an award winning teacher, building level administrator, district level administrator and most recently President Elect for Business Teachers Association of New York State. I have had the pleasure of working for the largest school district in the US where I was responsible for aligning operating policies and procedures to federal legislation, state grant funds and NYSED policies. Through NAF, I am dedicated to engaging and empowering all students through STEM education.
Helen Blanch
Vice President, Network Development
As the daughter of Cuban immigrants, my life has been filled with many "firsts".  First generation American (who didn't learn English until I started school); first in my family to graduate from high school…then college…then on through two more degrees.  I grew up in Miami, enrolled in the very public school system from which I would eventually retire as an Assistant Superintendent after a 30 year career.  Along the way I had mentors who provided guidance at key life-junctures, including the high school counselor who convinced me I was college material, then helped me attain a scholarship, the administrator who insisted I did have leadership potential and promoted me to my first supervisory position, and the superintendent who charged me with leading the district's secondary school reform effort.  I joined NAF in 2013 because I believe in our mission that preparing young people for future success should not rely on a serendipitous route such as mine, but be purposefully guided.
Colleen Del Terzo
Assistant Director, Professional Development
At age four, I started dragging a small suitcase full of books all around the house while telling everyone that I was going to school. My mother was a teacher; so, I wanted to be a teacher too. I have always enjoyed school but as a struggling reader, I had to study long and hard to get good grades. I earned a Bachelor of Science in Chemistry at the University of the West Indies in Jamaica and started teaching science after graduation. When I moved to Florida, the education system did not recognize my bachelor degree and I had to attain a Bachelor of Arts at Florida International University in order to obtain teacher certification. I continued to teach in parochial and private schools until I earned my Master in Science Education credentials. In the public school system, I have been a teacher, principal, and district administrator. With encouragement from my mentor and boss, I completed a Doctorate in Instructional Leadership at Nova Southeastern University. After 42 years in education, I am excited to be a part of the NAF team as we prepare high school students to Be Future Ready!
Kevin English
Senior Director, Knowledge Management
In high school I purchased my first car, a 1969 Plymouth roadrunner bright orange with a 383 V8. This fueled my love for doing hands-on activities. As I worked on my car, I thought that being a mechanic was in my future.  I also loved to cook and studied Culinary Arts in high school, running a student run restaurant on campus.  I was also high involved in Future Farmers of America and competed in public speaking. Upon high school graduation I had two scholarship offers, one to study to be a chef, the other to be a teacher.  I took the teacher scholarship and graduated from of the University of Arizona with a Bachelor's in Agricultural Education in 1986 and a Master's of Science in 1991.  I worked as an agricultural educator, construction trades instructor and engineering instructor in the Peoria Unified School district in Arizona for 30 years before joining NAF in 2013, where I continue to support the growth of young people.
Jeanne Friedman
Managing Director, Network Engagement
I wanted to be a dentist, but I became an educator. No regrets, this decision enabled me to have a career in public education that spanned more than a quarter of a century. I was a teacher and an administrator at both the elementary and secondary levels. I also taught post-secondary courses. I did veer from education in graduate school by enrolling into a liberal arts program where I received a Master's degree in Speech Communications. Mid-way into the process, I was presented with two offers: 1) a teaching fellowship at Penn State and 2) a teaching position in a public school system; I accepted the paid salary of $6,000. Throughout the years, I completed my MA and Ed.D degrees and retired from public education. I opened an LLC and found myself working part-time with NAF academies. In 2010, I joined NAF and have the privilege of being a Managing Director for Network Engagement.
Jennifer Geisler
Manager, Emerging Academies
I graduated from William Paterson University with a Bachelor of Arts degree in Communications. I originally planned to study broadcast journalism, but ultimately decided to concentrate my studies on interpersonal communications. This change in focus led me to my first job in the human resources department of a large financial institution, Bankers Trust. I spent eight years in the finance industry before making the difficult decision to leave the workforce to focus on raising my three young children. After eight years at home, I was excited for the opportunity to join NAF in 2010 — a new commitment for me, supporting both education and the future of underserved children. Since 2010 I've been fortunate to support academies in many capacities, including those new to NAF. I am thrilled to collaborate with academies across the network to ensure our students are future ready.
Colleen Gillis
Manager, Academy Development
Growing up in a family of educators, the importance of learning and having a unique skillset was engrained in me.  I attended NC State University, earned my degree, and began my career in the business industry. After one year, I decided to enter graduate school and pursue a Master's degree in Counseling & Development, realizing I had a desire to teach, nurture, and inspire students.  I earned my graduate degree from Winthrop University and was offered a position as a high school counselor at a NAF academy.  My best moments there were building meaningful relationships with my students and helping them discover their own passions.  From the experience as an academy counselor, I witnessed firsthand the impact that a rigorous, relevant curriculum, career exploration, work-based learning, and college preparation had on our students' lives. The NAF academy gave them the resources they needed to find, plan, and pursue their career dreams. Viewing the NAF experience through the students' eyes inspired me daily. I am pleased to be a part of the NAF team and have the opportunity to make the difference across our network, as we prepare students for the future!
Kate Haydon
Director, Academy Development
I started as a Finance major at Oklahoma State University, ended up with a Clothing, Textiles & Merchandising degree. Discovering retail wasn't for me, I returned to college and got my Master's degree and teacher's certificate in Family and Consumer Sciences. Finally, after several years, I was in the right spot, doing something I loved.
I wasted a lot of money and time chasing careers I was not cut out for. What I lacked throughout my education was career guidance. Not one person tried to help me match that with career possibilities with my interests. I finally became a teacher at the age of 32 with a clear mission: To help students find their way. And as a CTE teacher in Oklahoma, that's just what I did. When I found out our school was going to become a career academy, I loved the idea: an even BETTER way to help kids find their way. I became the site coordinator, gathered up a team and launched the health sciences academy at my high school.
By 2014, the Oklahoma City Public School District had 10 open academies and decided they needed someone at the district level to provide support and equity among all schools. So I jumped – what a great way to help MORE kids find their way. We launched two more academies as well as a district advisory board.
I am thrilled to be a part the NAF family to provide support and tools to help academies achieve their goals and to help their students find their way to the perfect match.
Ravi Hunter
Network Specialist
After graduating from high school, I worked as a Mail Room Clerk for a financial bank. My responsibilities ranged from handling incoming, inter-office, and outgoing mail to maintaining mailroom equipment, postage, and related supplies, and managing the maintenance of general office equipment and inventory. As my time with the bank progressed, additional responsibilities came under my task list, including reception and record keeping duties. I came on to NAF as a temp in April of 2014 before joining full-time in September 2015 where I apply these skills to the nonprofit world as an Operations Associate. This position maximizes operating efficiency by providing the highest level of customer service and identifying and implementing process improvements that result in a more productive and cost effective work environment.