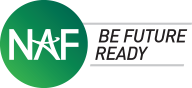 JD Hoye
President
I was 'horse crazy' in my youth and deemed 'college material' by my high school counselor, so it was no surprise that I went to college with the intention of becoming a large animal vet.  Within my first year at Oregon State University, I switched species and majored in and graduated with a degree in Sociology.  I did an internship my senior year working as a counselor for young people who had dropped out of high school. Seeing the impact of the workplace in reigniting career ambitions, which drives education with a purpose, has guided my career ever since.  I have led college and career preparation initiatives at local, regional, state, federal and now national levels—always driven by the incredible impact public-private partnerships can have on young people and their futures.  I joined NAF in 2007 and remain impressed and amazed at the power of our network and the tremendous difference our network leaders make in the lives of students every day.
Mary Adams
Executive Assistant
Since high school my passion has always been to work with kids. At one point I wanted a career in the juvenile justice system working with at-risk juveniles and went to work in the Criminal Records Division for Los Angeles County Superior Court. This is where my administrative career began and also took a detour. Working full-time and going to school part-time for business administration, I left Superior Court to pursue opportunities working as an administrative assistant for business management firms in the entertainment industry until I relocated to Northern California. Living in the Silicon Valley, I continued my career as an administrative assistant and then an executive assistant to the Chairman and CEO for various high-tech and startup companies in the semiconductor industry. I was honored when I received an opportunity to join NAF in 2008 as the Executive Assistant to the President. I have been with NAF since 2007 and continue to be impressed and inspired by the students.
Irene Lynn
Chief of Staff, Internal Affairs
I have been fortunate to have a rich and rewarding career.  My post-secondary education was at High Point University where I acquired some skills that have served me well.  That is, I learned to think, analyze, write and develop a capacity to continue to learn.  I worked in a number of different Department of Labor programs until I found my real passion, which is for youth — particularly those most vulnerable.  Every job was a learning experience.  After leaving DOL, I was able to continue to work on youth issues in the non-profit sector focusing on workforce preparedness. At NAF, I have been able to continue much of the work that I valued during my Department of Labor career, which was the School to Work Initiative, jointly administered by the Departments of Education and Labor.  I certainly never would have expected when I got out of college that I would follow this career path, but I am glad I did.
Kearney Staniford
Chief of Staff, External Affairs
I was an English major in college and was fairly certain that I wanted to be a journalist or a teacher. While attending Trinity College in Hartford, I had an internship with The Hartford Courant. It was everything a good work-based learning experience should be: paid, challenging, and fun. After graduating, I got a job with CBS News – the only problem was that it was in sales! I realized quickly that the television world was not for me and reverted back to the idea of teaching. The school where I hoped to work only had an opening for a Capital Campaign associate. I had no idea what that was, but it turned out to be the first step on my road to having a career I was passionate about.  Nearly 20 years later, I am fortunate to have built a career developing resources and strategies for leading non-profits, including NAF, whose students are among the most remarkable young people that I have ever met.