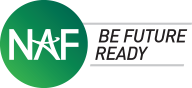 Lisa Dughi
Chief Operating Officer
After starting pre-med and changing my major three times at Cornell University, I graduated with a major in Marketing and a minor in Fashion. Fittingly, my career began in the fashion industry at Chanel developing marketing strategies using customer data. I went on to receive my MBA at Wharton School at the University of Pennsylvania, where I developed strategic, marketing, and analytical skills that I applied to management consulting, with projects spanning a range of industries and functions often with a data-driven solution. This gave me a great deal of experience affecting change within organizations large and small, but also made me realize that I wanted to use my experience to help make a difference. In 2012 I applied these skills to the nonprofit world by coming to NAF as a consultant to help use student data to tell the NAF story. I then served as Vice President of Marketing & Communications and led a full rebranding of the national organization and was responsible for planning, executing, delivering, and evaluating all aspects of marketing & communications. In my current role as Chief Operating Officer, I oversee the Marketing & Communications, Strategic Planning & Alignment, Finance, Research & Evaluation, Information Technology, Human Resources, and Administration functions.
Tiffany Barfield
Senior Director, Strategic & Community Partnerships
I graduated from Texas A&M University with a degree in Education. After graduation and being bitten by the political bug, I moved to Washington, D.C. and began my career at The White House where I held many positions, including working for First Lady, Laura Bush. While in Washington, I had opportunities to work on the G8 Summit, Republican National Convention in New York City, Bush-Cheney 2004 Campaign, Presidential Inauguration, and US Department of Health and Human Services. In 2007, I moved to New York City worked at UBS and Avista Capital Partners. After 7 years in the financial industry, I was ready for a change and wanted to pursue my passion in finding a purpose driven career. I joined NAF in 2014 as the Corporate Engagement Manager which allows me to combine my education and experience to bring partnerships of the highest level to the NAF Network!
Laura Beaubien
Senior Accountant
When I was a junior in high school, I knew I had to start deciding on a college major.  For me, it was based on what I loved to do and if there was a demand for it in the workforce.  I took a computer programming class and dropped out after the first day.  Then I tried Bookkeeping and knew I wanted a career in the finance field.  I graduated from College of Westchester with my Associate's in Occupational Studies in Accounting and realized that the job market was very competitive and required an education beyond a 2-year degree.  I obtained my Bachelor of Science degree in Business Administration: Accounting from Sacred Heart University.  I now have over 20 years' experience in accounting.  I also just recently obtained a Certificate in Not-for-Profit Accounting & Governmental Report from New York University.  I am a Senior Accountant in the Finance Department.
Umang Beri
Director, Systems & Data Applications
I was born in India where the education system was all about exams. As a child, I lived briefly in Baghdad where I attended an international school before moving back to India. In my teenage years, my family moved to Amsterdam where I studied in the IB system, and realized the importance of a really good education. I moved to the United States in 1999 and decided to go to the University of Rochester, New York, to double major in Computer Science and Economics, where I developed my passion for building online tools. Shortly after I graduated, I joined NAF in New York City. During my time here, I have helped develop multiple online systems including data tracking systems and databases to better serve our network and our staff. Through these systems, NAF has been able to track the growth, success and challenges of its network to better provide support to academies, as well as develop proof points to support NAF's continued success.
Ira Berkowitz
Chief Financial Officer
Growing up in Brooklyn, my career aspirations ranged from baseball player to doctor to lawyer. My dad was an Accountant and while in high school, I took a few accounting courses which came naturally to me. When it came time to choose a major at Brooklyn College, "lottery winner" was not an option, so I went with accounting. I started my career in public accounting in a medium size firm and then moved on to a "Big 8" firm. I tried my hand on Wall Street as a bank auditor and then in investment banking. After two years of all too frequently watching the sun come up from my office window, I finally found the non-profit world as a way to utilize my skills to make a difference in peoples' lives while maintaining the work-life balance. After 9 years as CFO for cultural institution in Chelsea, I joined NAF in 2009 and it was the best career move I have ever made.
Katherine Blasik
Vice President, Research & Evaluation
I exceeded my parents' history by completing high school and college but my path was not well defined until my high school pre-calculus teacher said I should study mathematics. She told me of options, expectations, success strategies, and called to ensure I was on track. The example is the strategy I follow…learning from others, deciding how it applies, and determining next steps…the research side. With four college degrees including a Ph.D. and training in project management/strategic planning, I have also placed priorities on community and family. My life includes giving back to others, much like my pre-calculus teacher …or like a call to give back to high school students through NAF's work in college and career preparation as the Vice President of Research and Evaluation. When asked about my background, I share that I am living a path that has value beyond me.
Brooke Buchanan
Senior Director, Administrative Services
After graduating from Tufts University, with a degree in Sociology, I moved to New York and began my career working as an event planner, mainly planning for non-profits. After working in events for five plus years, adding weddings and parties to the mix, I realized that my passion was in helping non-profits successfully deliver on their missions. Having only worked with Development departments of my nonprofit clients, I returned to school to expand my knowledge of nonprofit work and earned an MPA in Public and Nonprofit Management & Policy from Robert F. Wagner Graduate School of Public Service at NYU. I came to NAF as a temporary employee working with the Institutional Advancement team before moving to the Communications Department. When a position became available that enabled me to work with all departments within NAF, I was thrilled. My past experiences with various departments within NAF provided me with the background that has been invaluable to my current role.
Dee Chambliss
Director, Network Evaluation
I knew early on that I wanted to be a teacher, but entered college with plans to become a pharmacist after being told by my high school counselors, "You can do so much more than teach!"  Pursuing a liberal arts degree in Biology, I worked with young people in summer camps, prepared science labs for my department, and conducted research.  I realized that I was meant to be a teacher and added a teaching credential to my B.S. degree.  I taught high school and college science classes for many years before transitioning to various leadership positions in education at the district level, in government, and in the non-profit community supporting STEM education with Communities Foundation of Texas.  Along the way, I obtained additional credentials, including a Master's Degree in Molecular Biology, a Specialist's degree in Education Leadership, and a Doctoral degree in Education. I guess, in a way, my high school counselors were right.  As a teacher, I would indeed do so much more than teach!
Colleen Devery
Vice President, Strategy
I went to American University and studied areas that interested me without a very clear view of how they would lead to a career. I started out as Russian major after learning the language in high school and doing a home stay there. Pretty early on, I decided to change my major and ended up earning B.S. in Computer Science. While I was in college, I had a work study job with a center within the university that brought together UN agencies, NGOs and government officials around a wide range of international development issues. From that experience, I decided to focus my career in the nonprofit sector and dedicate my energies to making the world more of the place I want it to be. I worked at Girls Inc. for nine years and learned so much about fundraising, strategy development, and nonprofit management. I joined NAF in 2006 and have been lucky to play many different roles as the organization continually grows its impact and ambitions.
Laurie Johnson
Director of Evaluation Services
I grew up on a farm in Kansas and spent most of my youth playing various sports. I received a scholarship to throw javelin at Kansas State University and my high school career ambition was to own a gym. During college, my interests shifted and I was most captivated by my psychology courses. I changed my major to elementary education and intended to become a school counselor. After graduation, I worked as a paraprofessional in a special needs classroom and taught third grade before seeking additional education. I went on to earn a Master's degree in Educational Psychology and a Ph.D. in Experimental Psychology, both from Wichita State University in Kansas. Along the way I also gained experience teaching undergraduate psychology courses for WSU. Prior to joining NAF, I was employed by the largest school district in Kansas, Wichita Public Schools, where I spent 14 years conducting research, analyzing data, and engaging in evaluation and performance management at the district level. I'm honored to be a part of NAF's mission to help young people attain successful futures.