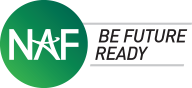 Brenda Barry
Chief Program Officer
Dolphin Trainer, Astronaut, News Anchor were all on my list of desired occupations growing up. In high school I excelled at math and science so I my high school guidance counselor guided me to pursue a major in Engineering. I attended UC Davis and after one semester in the School of Engineering, I knew I needed to change my path. Three declared majors later, I graduated with a degree in Economics and a minor in Psychology. I landed my first job through an internship I had with a national marketing consulting firm. Six years later, I changed course when an opportunity arose to help create a non-profit focused on bringing business and education together to better prepare students for 21st Century jobs. I've been invested in working with public-private partnerships to better the lives of young people for over 25 years. I joined NAF in 2010 and am honored to work with amazing people committed to helping students realize their full potential and helping employers find diverse, qualified talent.
Marcy Aycock
Managing Director, Network Expansion
As a little girl, I dreamed of becoming a teacher, then a principal – in fact, I liked to play school, but always wanted to be the principal!  Coming from a poor family of eight children, college seemed an impossible dream.  In fact, my high school counselor told me I wasn't "college material" even though I had a high grade point average!  I set out to prove him wrong.  I graduated with my Bachelor's degree and became an art teacher.  Next, I completed a Master's in Education Administration and became a principal.  Then, I completed an Ed.D in Educational Leadership.  During my tenure in K-12 education I worked at all levels, and always in schools with a high "at-risk" population.  After 16 years as a principal, I was selected to develop an Early College program for a community college.  This exciting work led me to NAF.  I joined NAF in 2014 as an Academy Development Manager for Region 3.
Tara Bellevue
Senior Managing Director, Network Engagement
I was a little girl from South Carolina with big dreams and an adventurous spirit. Future Teachers of America, Debate Club, French Club, Marching Band and the Math Club were all indicative of my future endeavors. I graduated high school wanting to be a business executive. I obtained a degree in Business Administration, and worked as a Marketing Communications Manager for an international telecommunications company. With a shift in the economy, I pursued a Master's Degree in Secondary Education with a focus on business education and mathematics. This led to a series of opportunities to shape the minds of young people as an award winning teacher, building level administrator, district level administrator and most recently President Elect for Business Teachers Association of New York State. I have had the pleasure of working for the largest school district in the US where I was responsible for aligning operating policies and procedures to federal legislation, state grant funds and NYSED policies. Through NAF, I am dedicated to engaging and empowering all students through STEM education.
Joshua Benfield
Manager, NAFTrack Integration
I was attending Appalachian State University majoring in Business Administration focusing on banking and finance when I realized that I wanted to work with young people and have a positive impact on the next generation. After college, I was able to use my degree and interest in helping young people by becoming a high school business and marketing teacher. During my time as a teacher, I led a NAF Academy of Hospitality & Tourism. After completing a Master's Degree in School Administration from the University of North Carolina at Wilmington, I took the NAF educational design to the next level in my district, becoming an Academy Coordinator and overseeing the opening of five additional academies in three years. I joined NAF in 2015 because I believe in NAF's mission and am excited to see the impact our network is going to have in preparing students across the country to be future ready.
Helen Blanch
Vice President, Network Development
As the daughter of Cuban immigrants, my life has been filled with many "firsts".  First generation American (who didn't learn English until I started school); first in my family to graduate from high school…then college…then on through two more degrees.  I grew up in Miami, enrolled in the very public school system from which I would eventually retire as an Assistant Superintendent after a 30 year career.  Along the way I had mentors who provided guidance at key life-junctures, including the high school counselor who convinced me I was college material, then helped me attain a scholarship, the administrator who insisted I did have leadership potential and promoted me to my first supervisory position, and the superintendent who charged me with leading the district's secondary school reform effort.  I joined NAF in 2013 because I believe in our mission that preparing young people for future success should not rely on a serendipitous route such as mine, but be purposefully guided.
Patricia Brown
Vice President, Corporate Engagement & Relations
I once heard someone say "if you allow yourself to get close to the urgency, the urgency will change you".  My personal background has placed me in the center of that urgency all my life.  The youngest of nine siblings, yet the first to attend college, I saw a great deal of untapped potential in my personal environment.  I was fortunate enough to have teachers who saw my potential and provided opportunities that lead me to obtain a degree in Chemical Engineering UT, Knoxville.  My early career was with Procter & Gamble, where I worked for almost a decade.  I left to found a non-profit for youth in a high-needs community in Cincinnati.  My contributions opened doors at KnowledgeWorks where I engaged communities in the small schools movement; at Strive, where I helped to develop the cradle to career collect impact framework, and now at NAF, where I have the privilege of providing opportunities to youth to help them realize their potential.
James Cole
Assistant Director, Corporate Relations
Unsure of what I wanted to be when I grew up, I decided to study something I thought would valuable in any career, landing on business and marketing at Sacramento State (California State University-Sacramento). During college, I held administrative roles in Public Relations before shifting to a role in the education field, working for LEED (Linking Education and Economic Development). Over the next few years, I continued to explore my interest in effective communications between business and education. Before joining NAF, I worked for the San Francisco Unified School District supporting career and technical education programs, including NAF academies to help bring the business and education worlds together through work-based learning and business engagement in their future employee pipeline. I also consulted organizations creating employer manuals and state-level work-based learning plans and implementation toolkits. I continue this work today as a member of the corporate engagement & relations team.
Colleen Del Terzo
Assistant Director, Professional Development
At age four, I started dragging a small suitcase full of books all around the house while telling everyone that I was going to school. My mother was a teacher; so, I wanted to be a teacher too. I have always enjoyed school but as a struggling reader, I had to study long and hard to get good grades. I earned a Bachelor of Science in Chemistry at the University of the West Indies in Jamaica and started teaching science after graduation. When I moved to Florida, the education system did not recognize my bachelor degree and I had to attain a Bachelor of Arts at Florida International University in order to obtain teacher certification. I continued to teach in parochial and private schools until I earned my Master in Science Education credentials. In the public school system, I have been a teacher, principal, and district administrator. With encouragement from my mentor and boss, I completed a Doctorate in Instructional Leadership at Nova Southeastern University. After 42 years in education, I am excited to be a part of the NAF team as we prepare high school students to Be Future Ready!
Kevin English
Senior Director, Knowledge Management
In high school I purchased my first car, a 1969 Plymouth roadrunner bright orange with a 383 V8. This fueled my love for doing hands-on activities. As I worked on my car, I thought that being a mechanic was in my future.  I also loved to cook and studied Culinary Arts in high school, running a student run restaurant on campus.  I was also high involved in Future Farmers of America and competed in public speaking. Upon high school graduation I had two scholarship offers, one to study to be a chef, the other to be a teacher.  I took the teacher scholarship and graduated from of the University of Arizona with a Bachelor's in Agricultural Education in 1986 and a Master's of Science in 1991.  I worked as an agricultural educator, construction trades instructor and engineering instructor in the Peoria Unified School district in Arizona for 30 years before joining NAF in 2013, where I continue to support the growth of young people.
Jeanne Friedman
Managing Director, Network Engagement
I wanted to be a dentist, but I became an educator. No regrets, this decision enabled me to have a career in public education that spanned more than a quarter of a century. I was a teacher and an administrator at both the elementary and secondary levels. I also taught post-secondary courses. I did veer from education in graduate school by enrolling into a liberal arts program where I received a Master's degree in Speech Communications. Mid-way into the process, I was presented with two offers: 1) a teaching fellowship at Penn State and 2) a teaching position in a public school system; I accepted the paid salary of $6,000. Throughout the years, I completed my MA and Ed.D degrees and retired from public education. I opened an LLC and found myself working part-time with NAF academies. In 2010, I joined NAF and have the privilege of being a Managing Director for Network Engagement.