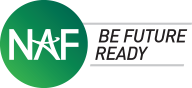 Umang Beri
Director, Systems & Data Applications
I was born in India where the education system was all about exams. As a child, I lived briefly in Baghdad where I attended an international school before moving back to India. In my teenage years, my family moved to Amsterdam where I studied in the IB system, and realized the importance of a really good education. I moved to the United States in 1999 and decided to go to the University of Rochester, New York, to double major in Computer Science and Economics, where I developed my passion for building online tools. Shortly after I graduated, I joined NAF in New York City. During my time here, I have helped develop multiple online systems including data tracking systems and databases to better serve our network and our staff. Through these systems, NAF has been able to track the growth, success and challenges of its network to better provide support to academies, as well as develop proof points to support NAF's continued success.
Katherine Blasik
Vice President, Research & Evaluation
I exceeded my parents' history by completing high school and college but my path was not well defined until my high school pre-calculus teacher said I should study mathematics. She told me of options, expectations, success strategies, and called to ensure I was on track. The example is the strategy I follow…learning from others, deciding how it applies, and determining next steps…the research side. With four college degrees including a Ph.D. and training in project management/strategic planning, I have also placed priorities on community and family. My life includes giving back to others, much like my pre-calculus teacher …or like a call to give back to high school students through NAF's work in college and career preparation as the Vice President of Research and Evaluation. When asked about my background, I share that I am living a path that has value beyond me.
Dee Chambliss
Director, Network Evaluation
I knew early on that I wanted to be a teacher, but entered college with plans to become a pharmacist after being told by my high school counselors, "You can do so much more than teach!"  Pursuing a liberal arts degree in Biology, I worked with young people in summer camps, prepared science labs for my department, and conducted research.  I realized that I was meant to be a teacher and added a teaching credential to my B.S. degree.  I taught high school and college science classes for many years before transitioning to various leadership positions in education at the district level, in government, and in the non-profit community supporting STEM education with Communities Foundation of Texas.  Along the way, I obtained additional credentials, including a Master's Degree in Molecular Biology, a Specialist's degree in Education Leadership, and a Doctoral degree in Education. I guess, in a way, my high school counselors were right.  As a teacher, I would indeed do so much more than teach!
Laurie Johnson
Director, Evaluation Services
I grew up on a farm in Kansas and spent most of my youth playing various sports. I received a scholarship to throw javelin at Kansas State University and my high school career ambition was to own a gym. During college, my interests shifted and I was most captivated by my psychology courses. I changed my major to elementary education and intended to become a school counselor. After graduation, I worked as a paraprofessional in a special needs classroom and taught third grade before seeking additional education. I went on to earn a Master's degree in Educational Psychology and a Ph.D. in Experimental Psychology, both from Wichita State University in Kansas. Along the way I also gained experience teaching undergraduate psychology courses for WSU. Prior to joining NAF, I was employed by the largest school district in Kansas, Wichita Public Schools, where I spent 14 years conducting research, analyzing data, and engaging in evaluation and performance management at the district level. I'm honored to be a part of NAF's mission to help young people attain successful futures.
Christel Kaufman
Director, Network Evaluation
I finished degrees in Health Education and Psychology completing an internship with emotionally disturbed children and after graduation, worked as a psychiatric hospital therapist.  I later returned to school to study Early Childhood Education, working in the field for a number of years and then in parent education.  My work with teenage parenting inspired me to return to pursue a Master's Degree in Planning and Public Policy. I was fortunate to land a paid internship with the State Commission on Children and Families in Oregon, where I was then hired full-time.  From there, I accepted a position as a teacher of Health Education and Family and Consumer Sciences and Director of district Teen Parent Programs and Early Childhood Education. After five years I returned to the university to get my principals license completing an internship at a High School, then became an assistant principal for 2 years, then a district substitute principal for 4 years.  With pleasure I joined NAF in 2006.
Nicholas Minar
Director, Research & Reporting
I have always been interested in what makes people the way they are. The complex collection of factors that influence human behavior is something I have always been interested in studying. I grew up near Cleveland, Ohio and my plan in high school was to gain a better understanding of human behavior by studying and teaching history. However, during my senior year I was exposed to my first psychology course and never looked back; from that point forward I knew I wanted to study psychology.
In my pursuit to better understand what makes us who we are, I began to study child development. I gained a new appreciation for the importance of early life experiences and how they influence who we grow up to be. I graduated with a B.S. in Psychology from the Ohio State University in 2010 but wanted to further explore child development by pursuing a postgraduate degree. During graduate school, I worked as a research and teaching assistant at Florida Atlantic University while studying perceptual development in typically developing children. I went on to graduate in 2015 with a Ph.D. in Experimental Psychology. Before joining NAF, I worked within the Department of Pediatrics at Rutgers Robert Wood Johnson Medical School where I conducted research involving both typically and atypically developing children. During this time, I gained additional teaching experience at the graduate level.
I am honored and thrilled to be a part of NAF and am excited about the important research being conducted. I hope to contribute to NAF's strong research agenda and help make the current generation of students, and many generations to come, future ready.
John Poulos
Web Developer
I attended the University of Notre Dame and New York University, where I received degrees in English and Journalism respectively, before transitioning from a career as a music critic and magazine editor to one in web development. After a short time, as web developer and technology coordinator for an educational collaborative, I worked as an intranet developer for a tech company outside of Boston. Additionally, I developed sites for writers, actors, artists, and comedians in Los Angeles. I had always wanted to return to New York and decided I wanted to work for an organization that was contributing some good to our increasingly troubled world. As the son of a second-grade teacher and as someone who has helped raise a child with learning disabilities, I've always valued education and have always had a great admiration for educators. I am honored to join the Information Technology team at NAF!
Patricia Smith
Director, Evaluation & Continuous Improvement
I was great at acting in high school and received a scholarship to attend Va. Commonwealth University.  I felt drawn to education and received an MS ED in early childhood education from City College of New York (CUNY). After teaching and leading in private schools for ten years, I turned my attention to urban education. I spent four years as a research associate in CUNY's Institute for Research in the African Diaspora in the Americas and the Caribbean conducting national research to address human rights and equity issues in rural and urban education. I completed doctoral studies at Nova Southeastern University in Curriculum Development and Systemic Change. My research activities continued at Brown University where I worked to roll out federal legislation in New England and develop a high school reform model.  NAF partnered with several of our high schools in Providence. Fortunately, I was invited to join NAF where I am currently serve on the research team.
Kamil Wilga
Network Administrator
I was born and raised on a farm in Poland before my family moved to America when I was 15. I came here speaking no English and managed to graduate high school by the age of 17. Growing up, I always wanted to do what my grandfather and father were doing. My father received a technical degree from a trade school and was a structural engineer. Over the summers, he'd bring me to work with him to ensure I remained productive when I wasn't in school. This helped me to build a strong work ethic and discipline.
I remember the first time I borrowed a computer from a friend. Back then, computers were still new and not everyone had one. From that first time using a computer, I was hooked. I knew what I wanted to do with my life.
I attended Briarcliff College where I majored in Computer Science. I worked throughout college putting together computers. Upon graduation, I landed by first job working in IT for the Polish Slavic Federal Credit Union. For many years, I worked as an IT consultant, serving many clients before joining NAF as Network Administrator.