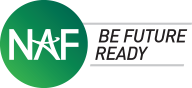 Megan Marx, Ed.D.
Assistant Director, Academy Development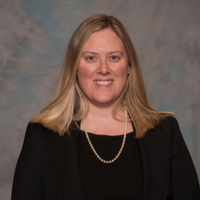 I am a classicist turned career technical education (CTE) enthusiast.  I studied Latin and classical traditions at Princeton University.  Believing in the power of education and driven by a desire that all students should have access to great learning opportunities, I completed a Master of Science in English Education from Syracuse University and have taught in middle and high school in rural, suburban, and urban districts.  Born a Jersey girl, I happily returned to New Jersey after working in Syracuse for a few years.
In 2010, Elizabeth Public Schools, a K-12 urban school district in New Jersey, hired me as an English teacher; I immediately took interest in NAF academy implementation and began working on the district's design team.  Additionally, I completed my doctorate at Seton Hall University in Education Leadership, Management, & Policy.
As a Language Arts coach overseeing cross-curricular, business-themed instruction in her school's Academy of Finance (AOF), I grew with Elizabeth's NAF program.  After a year as the vice principal of the school's AOF, which achieved NAF model status, in my first year as principal, I opened Elizabeth's 7th public high school as a whole school AOF program that shortly after became a Distinguished AOF.
I enjoy learning and life experiences, love and laughter.  I like to travel with my husband and two children, and serve as sous chef to my daughter and Lacrosse mom to my son.  Formula One is a great passion and I would love nothing more than to someday see a race on the streets of Monaco.