Recapping NAF Next 2022: Reuniting!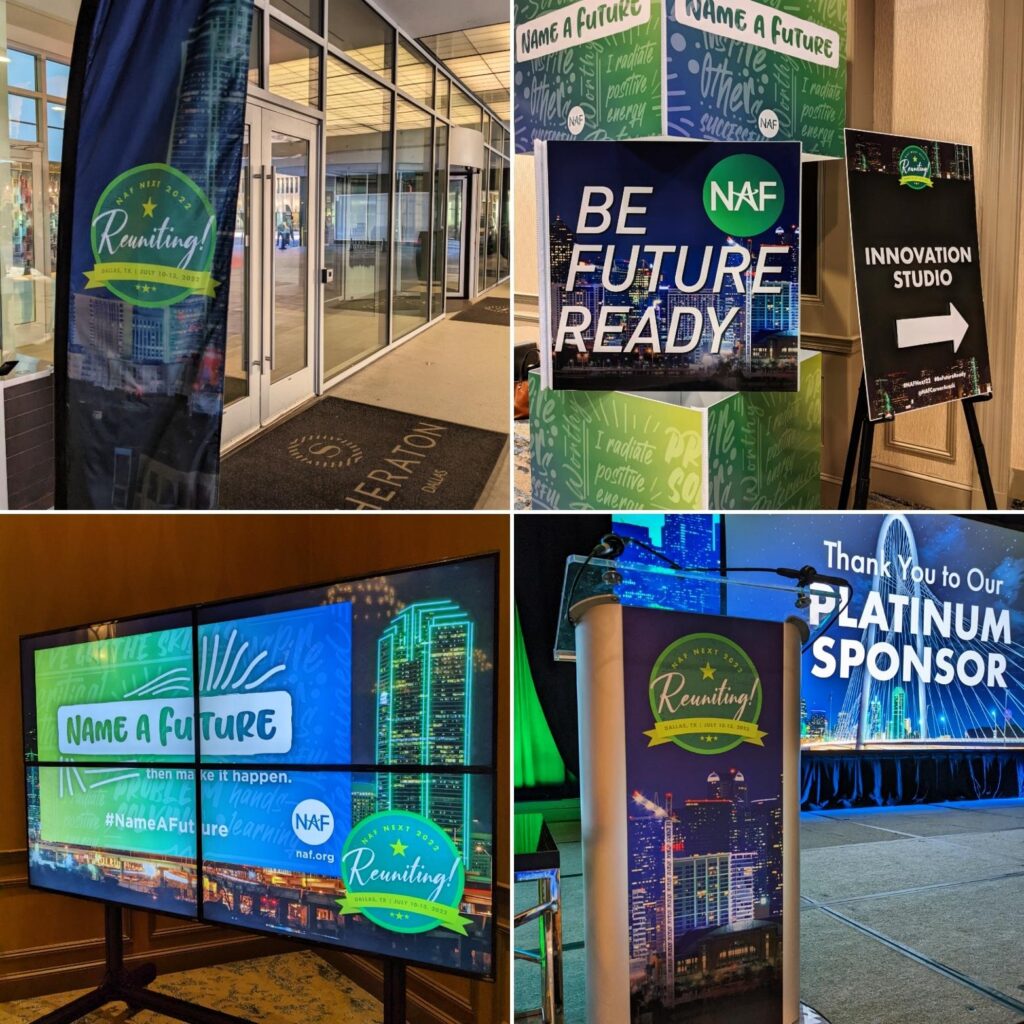 Can you believe it's been a week since NAF Next? This year's conference was a wonderful opportunity to "Reunite" and a chance to capture moments of the network back together! Take a look at our NAF Next 2022 highlight reel to relive the experience.
You can also visit our NAF Next Attendee Hub, where you can watch all of our learning sessions on-demand here.
While there are SO many highlights to choose from, we've featured a few below:
Michael Bonner took the stage Monday morning to kick off NAF Next. He urged our network members to recognize the power they have in being educators and to do things differently.
At the Innovation Studio, we had 30+ vendors, the opportunity to learn more from our diverse learning sessions, and the chance to meet NAF staff and ask questions. We hope you enjoyed touring the floor!
We also heard from amazing alumni and students about their experiences and how NAF has changed their lives and futures.
A big thank you to our student speaker, Alessio Sincore, and congratulations again to our Alumni Award winners, Olivia Bene '19, Mohamed Jalloh '15, and Omotayo "Pascalyn" Omotosho '20!
We had a wonderful time at the celebration dinner and enjoyed reuniting for the "Homecoming Court" and dancing the night away! We also got to celebrate our Advisory Board Champion Award Winner, Mark Rohlinger, and our Janet Linton Leadership Award Winners, Cynthia Garcia-Brown, Evan Statman, and Doristine Williams.
For our final day, we had the privilege of recognizing our Katherine Blasik Distinguished and new academies, from 2020 to now!
We also announced our Lenovo Scholar Network "Fan Favorite" winner – Mallard Creek High School, Academy of Engineering, in Charlotte, NC and their app, WobbleByte! We'd like to congratulate all of our student teams who participated this year!
A special treat was our first-ever NAF Next Fashion show, featuring our co-chairs of the Alumni Leadership Council and our NAF Next interns! Check out all of our new swag and purchase yours today! Visit the NAF store and use the code: NAFSUMMER22 for 10% off before July 24!
The NAF team also captured plenty of social media coverage from each day of the event:
We want to hear from you! Share your favorite moment(s) from NAF Next on social media and be sure to tag @nafcareeracads or use the hashtags #BeFutureReady, #NAFNext22, or #NameAFuture.
See you next year at NAF Next 2023 in Phoenix, AZ!